Source: BMW Group PressClub
Now the discerning customer has the opportunity to enjoy the unique high-performance character of a BMW M car also in the segment of BMW X models: The BMW X5 M and the
BMW X6 M
are the first all-wheel-drive models to offer the supreme performance, dynamic driving features, athletic design, and premium quality of a typical BMW M Car.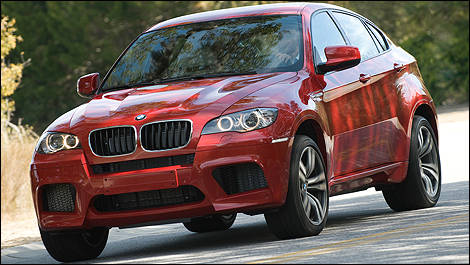 BMW X6 M
Both models are powered by a newly developed V8 high-performance engine delivering 408 kW/555 hp at an engine speed range between of 6,000 rpm from an engine capacity of 4,395 cc. The new M TwinPower Turbo engine is indeed the world's first power unit with a common exhaust manifold encompassing both rows of cylinders and featuring Twin Scroll Twin Turbo Technology.
BMW's intelligent xDrive all-wheel-drive system is naturally geared to the specific power and performance characteristics of the BMW X5 M and the BMW X6 M, just like Dynamic Performance Control also standard on both models. Interacting with the cars' special M suspension including Adaptive Drive and the newly developed Servotronic power steering, this ensures the driving behaviour so characteristic of a BMW M Car, combining unique driving stability with precisely controlled steering qualities all the way to the highest level of driving dynamics. 
The BMW X5 M and the BMW X6 M set new standards in this segment of high-performance models in terms of acceleration, lateral dynamics, steering behaviour, stopping power, and efficiency. Both models accelerate to 100 km/h from a standstill in 4.7 seconds and stand out not only through the truly impressive delivery of power by the V8 turbo engine providing maximum torque of 680 Newton-metres or 501 lb-ft in the broad speed range between 1,500 and 5, 650 rpm, but also through the likewise smooth and consistent build-up of lateral forces meeting the highest requirements and the most dynamic level of performance in bends.
photo:
BMW Group