BMW has just introduced the very first M sport utility vehicle in its history. When you take control of the wheel and step on the gas, you feel the same excitement as when you buy something that you fundamentally don't need but that you've always dreamed of to gratify your passion.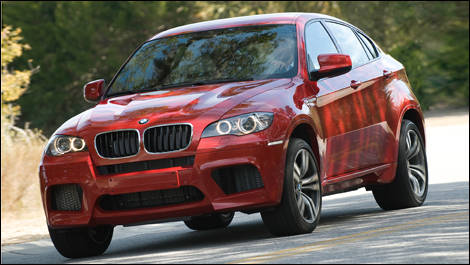 The X6 M is a blend of coupe and SUV that has inherited the spirit of a sports car.
At first, the idea may seem a little unreasonable. But for BMW it was a true technological puzzle that took two years to solve. And so the BMW X6 M came to be, a pure descendant of the line.
Performance first and foremost
From the outside, the X6 presents a distinctive profile, even more so in the M version. Large air intakes, well-positioned in front, refresh the entire core, including the M TwinPower Turbo, the first engine where both cylinder banks are incorporated.
Thus equipped, the X6 M produces power and torque at all engine speeds. It kicks out 555 ponies and surges to the 100 km/h-mark in 4.7 seconds. I had fun with it on the track, nearing 230 km/h on the straightaway, while its electronically set limit is 275 km/h. Such performance was also due to the 500 ft-lb of torque easily extracted from the 4.4-litre V8 hiding on the hood.
All that power is distributed to the front wheels by an automatic six-speed transmission with electronic selector and aluminum paddles behind the steering wheel, good news for those that had tried the push-button version of the previous generation (still included on the basic models).
BMW pulled out all the stops to ensure breathtaking starts, equipping its machine with Launch Control, a system that electronically controls all parameters to ensure slip-free starts and maximum traction. If, and only if, you really push hard, the
Stability Control System
will intervene, but only gradually.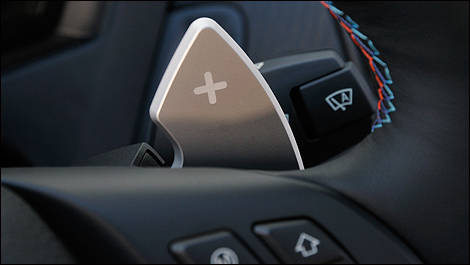 An electronic selector with aluminum paddles behind the steering wheel distributes all the power to the front wheels.