Ever dreamed of owning a prestigious car like a Bentley or Rolls-Royce? Of course you have. Sadly, only the rich and famous can turn that dream into a reality.
Until now.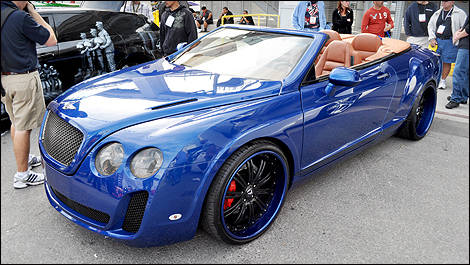 Photo: Olivier Delorme/Auto123.com
Thanks to Fugazzi Cars, anyone with $10,000 to spare can purchase a Bentley Continental GTC. Yes, you read that right: only $10,000!
So, where's the catch?
The Continental GTC is actually a Chrysler Sebring Convertible that underwent a makeover so thorough and realistic that it's nearly impossible to tell the difference. We sure were fooled when we spotted the car earlier this month at the 2011 SEMA Show in Las Vegas.
Fugazzi Cars offers 2001-2006 MY Sebring owners a complete do-it-yourself kit for just US$7,000. Tuning not what you excel at? Add $3,000 and the company will perform the transformation for you.
Obviously, for that price, don't expect the stock engine of the Sebring to be replaced with Bentley's 567-hp W12!