When manufacturers consider the idea of releasing a concept vehicle, they must first patent it before it makes it to the production stage. It's a common practice, but often remains secret.
When information is gleaned about a new model, it makes headlines quickly. That's what happened with sketches of a Cadillac coupe that found themselves everywhere on the Web over the weekend.
The rudimentary sketches reveal a vehicle that seems quite spectacular. Clearly it's still at the concept stage, because the side mirrors are thin like sheets of paper, always a tell-tale sign.
Nonetheless, the body looks, in all respects, like it could make its way into a production version. A fastback roof, a diffuser built into the rear bumper, wide rear bumpers and the grille flanked on either side by additional smaller air intakes may indicate the possibility of a turbo engine being implanted beneath the hood.
In profile, its lines are not unlike those of a Chevrolet Camaro.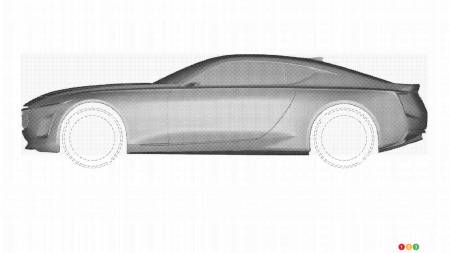 We have no doubt that if this concept gets to the production stage, we'll be talking about an absolutely spectacular race car.
However, before we get too excited, we need to remember that when Cadillac presents a concept at an auto show, they often remain at the concept stage. Case in point, the Ciel and Elmiraj concepts.
Still, we can dream.