Cadillac, a GM division, today offered a preview of its all new crossover utility vehicle - the Cadillac SRX - planned for production in mid-2003 as an early 2004 model.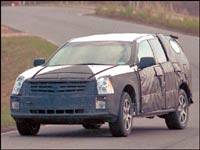 The Cadillac SRX was announced back in January 2002 and will enter the medium luxury utility segment, one of the fastest emerging market segments. It is one of five all-new Cadillac products planned for production between January 2002 and the end of 2003.
"This newest addition to the Cadillac family will demonstrate that we're unafraid to lead in styling, performance and functionality. The SRX will be another boldly designed product from Cadillac featuring unique product innovations that will allow us to expand our portfolio and attract new customers," said LaNeve.
The Cadillac SRX is the division's first-ever luxury crossover vehicle and its introduction positions Cadillac to compete in a segment it is not in today. The SRX will bridge between Cadillac's premium entry-and full-size sedans and its powerful utilities.
2002 SRX Highlights
The Cadillac SRX is a luxury crossover vehicle designed to fit a new place in the Cadillac portfolio between our sedans and full-size SUVs. The SRX will offer a unique blend of dynamic performance, a high level of functionality and bold Cadillac styling.
Dynamic Performance
Built on the new Sigma platform at GM's new state-of-the-art Lansing Grand River Facility
Lower center of gravity than most competitors provides for provides better ride and handling, without compromising driver's command view of the road