Ford Bronco Future
So anxious is Ford to bring the minimalist Bronco concept car to the low end of its SUV pricing table, it's actively looking for an existing platform capable of supporting a production version.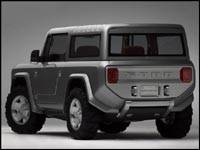 If built, the Bronco would be slightly smaller and less expensive than the Ford Escape sport-cute (perhaps $3,000 less in Canada), and would deliver a more basic package.
Ford Motor Co. is studying three existing platforms to figure out a way to build the Bronco SUV concept shown at the North American International Auto Show -- the Escape itself, the aging Ranger pickup, and the EcoSport SUV the company builds in Brazil and sells across South America.
It's also possible that Ford could use the body-on-frame platform that will house the next Land Rover Defender. That's certainly the ideal type of platform, but there are serious political issues in taking a key component of the company's priciest off-road brand and using it in the company's cheapest off-road brand.
There's no chance the Bronco would get an original platform, since that's too expensive in today's auto industry. Adapting an existing platform and using as many existing parts as possible is the only way Bronco might happen.
Such a method would also speed up the development process, though even with an existing model and componentry it would be impossible to get a production version into North American showrooms until late in 2005 at the very earliest.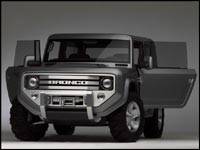 Ford's intent with the Bronco concept was to evoke the sense of the original model in 1965 and play up the idea that this is a more fundamental product that anything else on the market. As J Mays, Ford Motor Company's group vice president of design, puts it: ''It's like a claw hammer in a box full of department store, battery-operated, plastic, power tools.''
Phil Martens, Ford's primary product development executive, says, ''At a time when sport utilities are becoming more and more civilized -- some to the point of forgetting their roots -- the Bronco's clean, raw shape, uncluttered interior and capable chassis make it the ideal tool for work, play or just making a statement.''