The Dilawri Group opened the doors to the new home of Porsche Centre Vancouver at 688 Terminal Avenue. Covering 40,000 square feet, it's the first dealership in Canada to feature Porsche's new global corporate identity with its striking exterior, expansive showroom, and state-of-the-art service centre.
Designed to be energy-efficient, the building's exterior features a large curved aluminum facade with extensive use of glass and high-performance metallic finishes.
The new facility is double the size of the former location at 1718 West 3rd Avenue. There's a private fitting lounge where customers can experience Porsche product customization, while the service centre offers increased capacity with 20 technologically advanced service bays.
"We are pleased to have worked with the Dilawri Group in bringing this exciting new Porsche facility to Vancouver. Vancouver is one of the fastest growing markets for the brand in Canada, making it an ideal location to launch our latest showroom design concept," said John Cappella, Director, Network Development, Porsche Cars Canada, Ltd.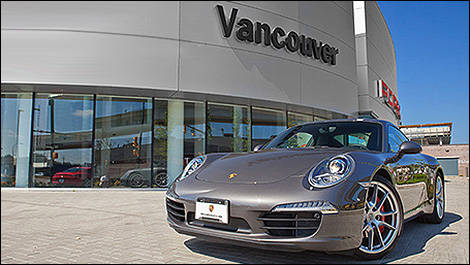 Photo: Porsche