Following other major auto shows like Detroit's and Montreal's, we were naturally expecting a similarly-subdued approach in Toronto. But as it turned out, the first Media Day of the 2009 Canadian International Auto Show defied the odds by having a few surprises in store for journalists.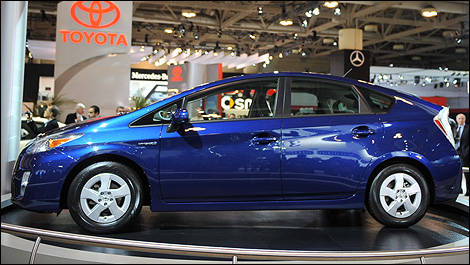 Toyota Prius
For instance, a vast area gathered all the new models making their Canadian debut in Toronto. Among them were hybrid cars like the 2010 Toyota Prius and Lexus HS 250h, both of which are scheduled to hit showrooms in the next couple of months.
Other notable premieres included the redesigned Ford Taurus and the all-new Lincoln MKT, two vehicles that will be heavily counted on to boost the American manufacturer's production capacity and, hopefully, sales volumes. In Montreal, Ford had already introduced the European-derived Fiesta to highlight its revitalized lineup.
Pushing the envelope of innovation at Honda's stand was the FC Sport Concept. This hydrogen-powered, fuel-cell vehicle was originally introduced a few weeks ago at the NAIAS.
A star in Toronto, the Hyundai Genesis proudly showed off its recently-acquired "Best New Luxury Car" trophy along with the official coupe variant. Producing 300+ horsepower, the latter will be seen on the streets and on the track, as Hyundai got its homologation for upcoming races.
North American premieres!
Some manufacturers chose the CIAS to unveil new models that had yet to be spotted in North America. Volkswagen, for one, took the wraps off the sixth-generation Golf. Exit the Rabbit nameplate; the popular hatchback marks a significant evolution in terms of design, fit and finish as well as powertrain. A new clean diesel TDI will be available.
Mercedes-Benz, meanwhile, launched an extremely exclusive smart to celebrate the brand's 10th anniversary. A mere 10 units will be produced. You can only pray your name winds up on the list of lucky buyers...
Finally, Korean automaker Kia took advantage of the spotlights at the CIAS to introduce the Spectra's replacement. Called Forte, this compact is already sold in Europe where its modern design has young drivers excited. Expect to see it at Canadian dealerships as early as April.
At the end of the day, despite a sluggish economy, the Toronto show did present a surprising array of new models making their very first appearance on Canadian or North American soil. For a complete coverage, stay connected to Auto123.com.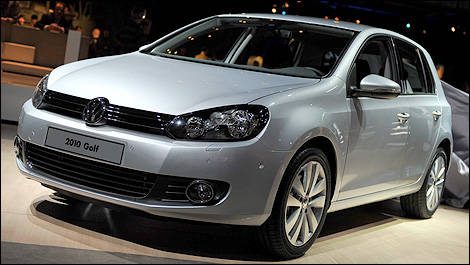 Volkswagen Golf
photo:
Matthieu Lambert