From CTCC
Going into the last event of the season, it was under a very intense and competitive atmosphere that drivers and their crews arrived at Calabogie Motorsports Park.
This last event at CTMP had Damon Sharpe 14 points behind the Touring Class leader, Michel Sallenbach and Bob Attrell 210 points behind the Super Class leader, Scott Nicol.
In Saturday qualifying, Scott Nicol grabbed pole position in the Super Touring class and was followed by Benjamin Distaulo and in third place Roger Ledoux.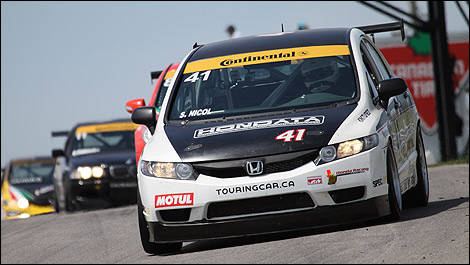 Scott Nicol. (Photo: John R. Walker)
In Touring Class, Damon Sharpe won pole position trailed by Michel Sallenbach and Éric Lacouture. Later that same day, Round 13 was fought. Bob Attrell went off track on the grass which destroy his front splitter made his rear bumper hang off the car, he had to pull into the pits in order to remove it.
The man used to being in first place won the race, Scott Nicol; in second place was Alex Healy and in third Jonathan Rashleigh.
In Touring Class, first step of the podium went to Damon Sharpe, gaining 5 points by finishing right in front of Michel Sallenbach, which weakening his points' lead from 9 to 4 points. Éric Lacouture finished third, completing the podium trio.
On Sunday morning, the drivers took their machines to the track for Round 14. Pole position was held by Scott Nicol in Super Class for this last battle and although he managed to keep his first position until the checkered flag, he struggled all race long as Jonathan Rashleigh was menacingly close behind, ready to take advantage of any mistake and overtake him.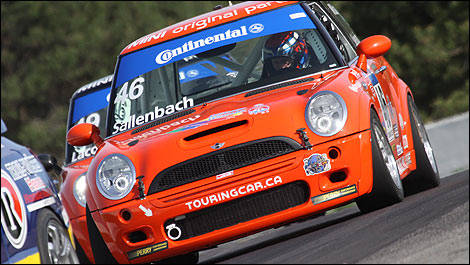 Michel Sallenbach. (Photo: John R. Walker)
Behind them, drivers were racing hard as Roger Ledoux and Bob Attrell were both fighting for third position in the championship. Unfortunately, Attrell experienced mechanical issues and had to retire from the race after only 7 laps. Alex Healy took advantage of Attrell's misfortune and finished the race in third position for his fifth podium of the season.
With the season ending, Scott Nicol was crowned 2013 Super Class Champion, followed by Jonathan Rashleigh and Roger Ledoux. Alex Healy and Bob Attrell respectively finished 4th and 5th overall in the championship.
In Touring Class, Damon Sharpe started in front as he had the fastest lap of Round 13. He maintained first place for the entire race, keeping Michel Sallenbach just far enough behind to ensure the victory. The Sharpe/Sallenbach battle would also determine the season championship.
On the podium, Sharpe was on the highest step, Sallenbach was on the second and Carlos Tesler-Mabe on the third. With the season ending, Damon Sharpe was crowned Touring Class Champion for the second year in a row, followed by Michel Sallenbach and Éric Lacouture. Carlos Tesler-Mabe and Jocelyn Hébert respectively finished 4th and 5th in class.