For a second year now, yours truly has had the opportunity to attend the Cavallino Classic, an annual event organized by the American magazine of the same name and dedicated to the Maranello brand.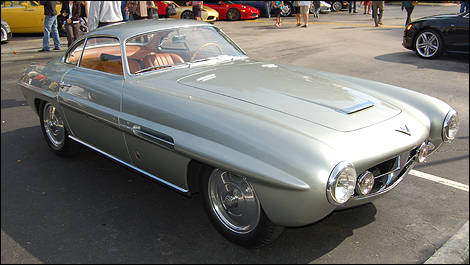 Ghia Supersonic 1951
Fangio and Co.
As usual, the festivities of this 18th edition were kicked off during the week with races at the Palm Beach International Raceway, formerly known as the Morosso Speedway. The track demonstrations of the numerous
Ferrari
clients made way for the Shell Historic Challenge, featuring the sacred beasts that left their mark in auto sports between the 1940s and 80s.
On the starting grid before us stood the Maserati 250F driven by Stirling Moss at the 1956 Australian Grand Prix. Behind the wheel sat New Zealand's Peter Giddings, a well known figure of the historical racing scene. Right behind him snorted another 250F. Yes, we were decidedly spoiled. Also pawing on the starting grid were a Ferrari 250 TR, a sublime
Testa Rossa
, a Maserati 300 S and two pre-war Alfa Romeos.
A mysterious Dino
The symphony in red continued back in the paddocks, interrupted by interludes in French blue and Belgian yellow. Old mixed with new, coupes with convertibles, single-seaters with two. And there, at the end of the paddock, as lonely as a child's discarded toy, awaited a strange and alluring vision in yellow. The emblem read Dino, nothing more. But what's a Dino?
We would get our answer the next day in downtown Palm Beach at (yet another) super car show. The mysterious beauty belonged to Jim Glickenhaus, movie director and stock exchange magnate. "Yes, it's a Dino," explained the owner, "a unique model created by Pininfarina based on the Dino 206S with racing chassis and engine. It was exhibited at the Frankfurt Auto Show and had remained with the Pininfarina family since. I bought it from the late Andrea Pininfarina. I raced this car in the Targa Florio historic rally last year. With 210 ponies and weighing only 630 kilos, it's a true delight on the streets of Sicily. It just arrived in the United States."
And as if that weren't enough, the seductive Dino was accompanied by another Pininfarina exclusive, the Ferrari P4/5 based on the roaring Enzo built specially for Glickenhaus in 2006 at the cost of 4 million dollars. "I have a soft sport for the P-Series Ferraris of the 1960s, and the car was built by Jason Castriota at Pininfarina and based on it."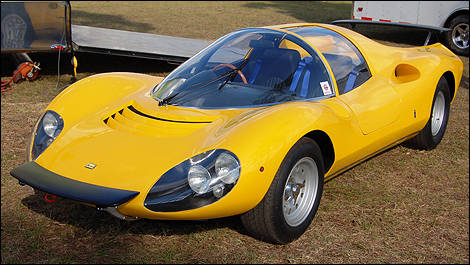 Dino 206S Pininfarina