With her black dress and seductive red lips, the legendary
1957 Ferrari 250 Testa Rossa
(number 0714TR) will be put up for auction by RM Auctions on May 17, 2009 in Maranello, the headquarters of Italian engineering where this mechanical marvel and her 21 sisters were built between 1957 and 1958.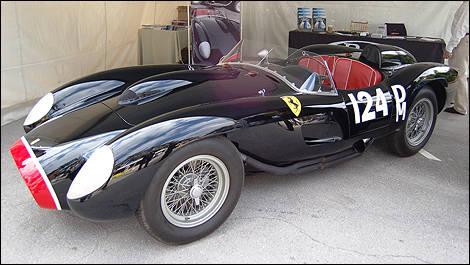 1957 Ferrari Testa Rossa

One of coachbuilder Sergio Scaglietti's most striking works, the 250 TR is among Ferrari's most prized lineup, that of the famous 250s, all powered by a mythical engine: Giacomo Colombo's V12. Topped with red cylinder head covers (hence the name "red head"), the 3.0-litre V12 produces 300 hp in its racing version, or 100 hp per litre, rather exceptional performance for the late 1950s.
Between 1958 and 1961, the 250 TRs won 10 of the 19 international events they were registered in, securing their place in the history books.
Apart from the formidable engine and enviable list of titles, the Testa Rossa also stands out by its unique muzzle with the pontoon fenders that bring to mind the bow of a catamaran. Although incredibly seductive, the design still has a functional calling: improve the cooling of the drum brakes by sending in ram air that is then evacuated by the wide openings on the car's flanks. The genius of the Italian design resides in this technical necessity that gives the Testa Rossa its irresistible allure. It is the art of combining functionality with beauty.
To admire the aluminum and steel Testa Rossa in person, head to Maranello on May 17, 2009, for the Leggenda e Passione auction conducted by
RM Auctions
.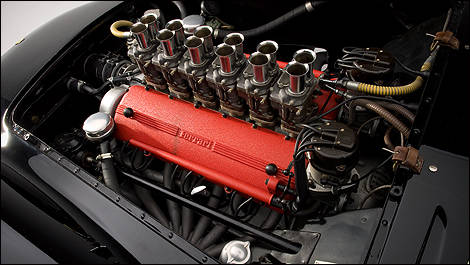 A mechanical beauty, Colombo's V12 engine is topped by six Weber carburetors and two magnificent red cylinder head covers.
photo:
RM Auctions, Alain Raymond