Earlier this week, Dodge promised to unveil a high-performance model at the Chicago Auto Show. Today, the attending media witnessed the launch of not only the 2012 Charger SRT8 but also the R/T variants of the Charger, Durango, Grand Caravan, Journey and Challenger.
Available with RWD or AWD, the 2011 Dodge Charger R/T is motivated by a 5.7-litre HEMI V8 producing 370 horsepower. Accelerations from 0 to 60 mph (96 km/h) are completed in under 6 seconds.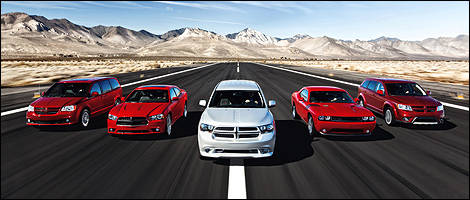 Photo: Chrysler
Meanwhile, the 2011 Dodge Durango R/T's HEMI engine is rated at 360 horsepower and 390 lb-ft of torque. The suspension and exhaust system have both been revised. Twenty-inch wheels, a body kit, seven suede seats and a 10-speaker, 506-watt sound system are part of the mix, too. And let's not forget the newly-available and exclusive Redline Red exterior paint colour.
Last week, we reported a story about the 2011 Dodge Grand Caravan R/T, so we invite you to read it for all the specs and prices. Basically, the vehicle receives cosmetic upgrades, a sport suspension and additional features.
Next in line is the 2011 Dodge Journey R/T, which mainly benefits from visual enhancements such as black and red fabric seats, red stitching on the steering wheel and shifter as well as trizone climate control and 19-inch alloys.
Last but not least is the 2011 Dodge Challenger R/T whose 5.7L HEMI develops 376 horsepower and 410 lb-ft of torque.
Obviously, the show-stopper at the Dodge stand in Chicago is the 2012 Charger SRT8, which is expected to go on sale later this year. The old 6.1L HEMI beefed up to 6.4 litres, resulting in an estimated output of 465 horsepower and a torque rating of 465 lb-ft.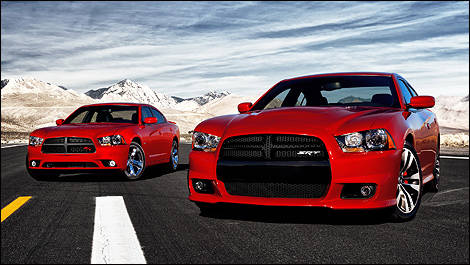 2011 Dodge Charger R/T and 2012 Dodge Charger SRT8 (Photo: Chrysler)
It will be the first vehicle from Chrysler Group to come standard with steering wheel-mounted paddle shifters in addition to the 5-speed automatic transmission's shift lever-based manual mode.
The Charger SRT8 also inherits a two-mode adaptive suspension (Auto, Sport), 20-inch wheels, Brembo ventilated disc brakes, a 19-speaker, 900-watt Harman Kardon sound system and suede inserts on the front seats.