The horsepower war rages on like nobody's business. Be it the Germans, Japanese or Americans, all are out to outdo the other. And the only thing we can do is sit back and enjoy the show.
Chrysler is making waves these days with numerous new or revised products, this is true, but one way to keep us all on the bandwagon and asking for more is to announce that the family "supercars" will get a boost in the horsepower section. Not that the SRT8s lacked in the bulge to begin with...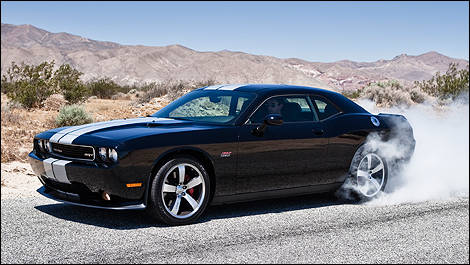 Photo: Chrysler
Current SRT8s make or will make 470hp from the 6.4L HEMI V8. This serious amount of power puts these cars in a league of their own, no doubt, but the problem is that there exists a league above them that includes the likes of the Ford Mustang GT500 and Chevrolet Camaro ZL1.
This lends credence to the rumour that SRT may be adding a supercharger in the SRT8s engine bays. According to the story, output could rise by an extra 100 hp.
We have been unable to confirm this tasty morcel of gossip but are hoping that it will turn out to be true.
Source:
Motor Authority