By announcing the five new electric vehicles, Chrysler is demonstrating the versatility of their electric drive technology; and, these non-differentiated applications of new technology will help facilitate the electric car revolution.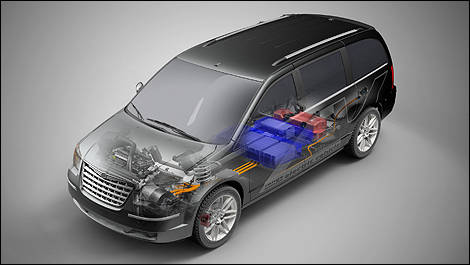 The electric motor's output to the front wheels is rated at 200 kW, or 268 horsepower, and 258 lb.-ft. of torque.
From an energy standpoint, even if the Town & Country EV became available tomorrow at your local dealership, it will still have its draw-backs; it will still use gasoline, and, if plugged in, may rely on non-renewable, unclean energy sources. Furthermore, the technology's reliability and recyclability stand in question. Regardless, the ENVI products represent a major stepping stone towards where consumer motoring should be. For Chrysler's sake, stay tuned!
photo:
Chrysler