The WinterContact TS 850 P winter tire from Continental came in first out of all tires tested recently in Europe by the team at Autobild.
The judges used a series of 13 criteria to come to the conclusion that the WinterContact TS 850 P offers "a high level of performance in a range of aspects, dynamic road handling, precision of steering and stopping on short distances, in all weather conditions." It obtained a grade of "Exemplary".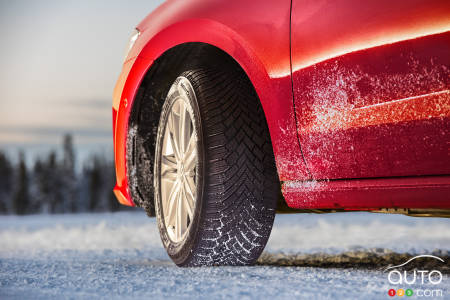 Testing was carried out using 225/40R18 tires on a Volkswagen Golf GTI. In one striking example of its superior capabilities, the Continental WinterContact TS 850 was able to bring the vehicle to a stop from 100 km/h in 50 metres on a wet track; an entry-level Chinese-made winter tire, meanwhile, took 13 metres more to accomplish the same, or roughly three car lengths.
The WinterContact TS 850 P was designed for mid-range to high-end cars and SUVs. Thanks to its S-GRIP tread and PrecisionPlus technology, it offers expectional road grip in snow and reduced braking distance on both dry and wet surfaces. It is available in Canada in sizes ranging from 16 to 20 inches and comes with a 12-month or 2/32nd inch treadwear warranty.
For more information and tips about winter tires, visit our Tires section.