The ability to arrange press cars to drive when you travel is one of the primary perks of this job, and I have to admit that I have been at the front of that line many, many times in the past 20 years.
At first I was just grateful to have a car waiting for me when I stepped off the train or the plane, but I soon enough moved beyond that to trying to get something appropriate for the occasion, and very quickly thereafter that meant a convertible.
It wasn't always possible to get a droptop ride from some accommodating car company, but when it was it always upgraded the travel experience. I can tell you now that a convertible provides the best means of experiencing the following places: LA, San Francisco, London, Paris, Rome, Manhattan, the English countryside, California's Pacific Coast Highway, the Furka Pass through the Alps from Italy to Switzerland and on to Germany, the Overlord route along the English Channel in Normandy, the Bas Corniche along the shores of the Mediterranean from Cannes to Monaco, and what a strange group of media hacks called the Baltic Coast Highway from Riga to Tallinn and on to Leningrad/St. Petersburg.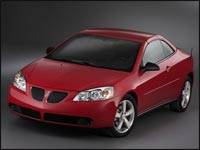 2006 Pontiac G6 Convertible (Photo: General Motors of Canada)
That 1990 press trip through the northwest corner of the Soviet Union in its declining days might have been the most amazing. because of the locals were dumbstruck by the appearance of something as cool as a cluster of Saab 9.3 convertibles and a mob of westerners rich and carefree enough to visit their Communist-controlled countries. At the time I felt like a thoughtless prat, since we were hot-dogging our way across their home, flaunting our wealth and our freedom and pretty much ignoring their traffic laws, and I still feel that way to this day. But I also think that we might have looked like a harbinger of the economic opportunity that was soon to come to them, providing them with the chance to behave exactly the same way with their less fortunate countrymen in years to come. On my second visit to Russia, in 2000, I learned that that's exactly what happened.
Wherever it was and whatever the reaction from the locals, tooling around town or the local countryside was always made better by being in a convertible. Simply put, you were more directly exposed to the local environs without a roof to come between you and it, and as a result more connected to what was around you.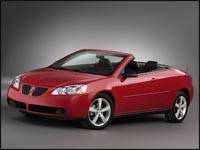 2006 Pontiac G6 Convertible (Photo: General Motors of Canada)
There is also the particular joy to be found at the receiving end of envy, when you see someone driving a Toyota Camry staring at your ruddy, self-satisfied mug behind the wheel of a convertible and wondering how his or her life went so, so wrong.
In order to pursue other challenges, I may have given up most opportunities to droptop around the world in some press car or another, but the urge to be a greater part of the passing parade and feel the envy of Camry owners in this country is strong. So I am thinking of leasing a convertible from the rather extensive list of models available.
Eliminating candidates from that list didn't take much time, since many of them are too expensive and/or too small for two or more adults and their gear. The Mini and the Ford Mustang are clearly time machines for Boomers looking to relive their long-lost youth, Toyota Solara is a Camry wearing a cabana suit and sandals with socks, and the Mitsubishi Spyder comes from a company whose very existence in Canada is in question.