AS reported by LOMA-Performance
The name of this vehicle is a show in itself: C6.BlackforceOne. It is clearly reminiscent of the legendary Boeing Air Force One of the United States president - doubtless no accident by tuner LOMA-Performance. Yet when the C6.BlackforceOne available in Stealth matt black, Eurofighter matt grey and White Storm matt white (other colours on request) comes thundering round the corner, it is soon clear that it more than deserves its name - and has far more to offer than just an exciting label...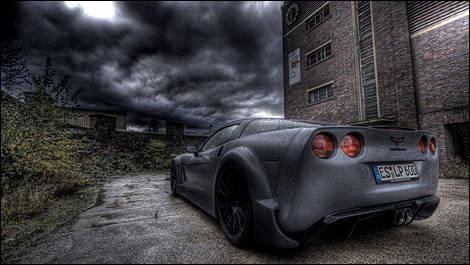 No less than two metres from outside wheel to outside wheel, the C6.BlackforceOne is based on the "normal" Corvette (original width: 179cm) and not on a Z06 or ZR1 model. This means around ten centimetres more on each side and creates a real masculine feel. LOMA-Performance makes no effort to disguise the source of the additional width - indeed clearly and stylishly displays the carbon fibre wheel arch extensions and carbon fibre side skirts available with or without visible screws: the ultimate racing look. LOMA has installed a carbon fibre front lip and rear diffuser with integrated LED reverse light alongside the extensions, also in carbon fibre. The optional LOMA-Performance rear spoiler with a carbon fibre finish is easy to fit and detach. Circular daytime running lights are an eye-catching feature of the headlights. The front lip, rear diffuser and daytime running lights are incidentally available for all C6 Corvettes, including the Z06 and ZR1.
794 PS with bi-turbo charging
The bi-turbo engine conversion is, however, exclusive to the C6.BlackforceOne and raises an incredible 794 PS from the V8 engine. 675 PS still reach the rear axle after transfer via a LOMA-Performance carbon fibre sports clutch, highly durable carbon fibre drive shafts and an overhauled gear unit; skilled hands are certainly needed at the wheel of the high-speed Corvette. It should hit 100km/h in just 3.4 seconds to furious roars from the LOMA Cup Sport Superlight exhaust unit and reach 330km/h. "Only" 330km/h? Yes, that's right, because LOMA believes in good acceleration in all situations rather final speed as a status-symbol, and has adjusted the C6.BlackforceOne accordingly.
A propos adjustment: coilover suspension is fitted beneath the body to allow separate adjustment of pressure and rebound damping. Even the stabilisers are adjustable. An extra 8 centimetres' tread at the front and all of 14 centimetres at the rear ensure the C6 really hugs the road.
The impression of sheer unlimited curve speed is of course also down to the Michelin Sport Cup high performance tyres in the dimensions 275/30R19 and 335/25R20 mounted on 10 x 19 and 12 x 20-inch shining black OZ Racing Ultraleggera HLT alloy wheels.