Saskatchewan native Matt Campbell will take part in the 2014 Dakar rally-raid, aboard a Rally Raid UK-prepared Dodge Durango.
Campbell started racing a MINI a couple of years ago, but had to stop for professional reasons.
The Calgary, Alberta resident got back in the racing game recently, taking part in off-road competitions such as the Baja California to prepare himself for the famous Dakar, where he will share a purpose-built Durango with Mexican Luis "Fito" Ramirez.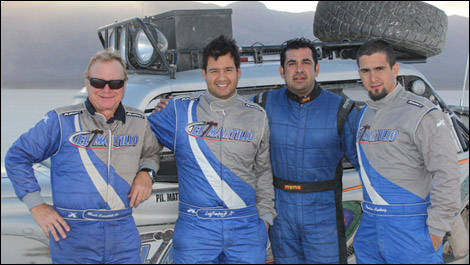 Matt Campbell, Luis Ramirez, Carlos Olmoz (assistance-truck driver) et Nicolas Ambriz (Photo: El Martillo Racing)
Ramirez, a former Baja 500 winner, will help Campbell drive, and fellow Mexican Nicolas Ambriz will do the co-driving. The former promoter of the IndyCar race in Vancouver, Paul Clark, is heading the endeavour.
Rally Raid UK, the company that built El Martillo Racing's Dodge Durango, is the same company behind ALDO Racing's David Bensadoun and Patrick Beaulé.
The 2014 Dakar will take Campbell, Ramirez and Ambriz from Rosario (Argentina) to Valpraiso (Chile).