Detroit, Michigan – European car EV maker Venturi made its first official participation in the North American International Auto Show in Detroit this year by presenting three vehicles it designed: the Venturi America, the record-breaker Buckeye Bullit and a small van called Citroën Berlingo Powered by Venturi.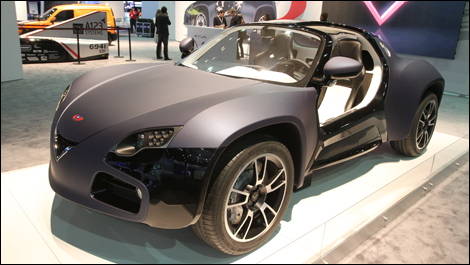 The Venturi America concept shown this year at the Detroit Auto Show could eventually turn into a limited production model. (Photo: Luc Gagné / Auto123.com)
Referred to as a "High Voltage Buggy", the America is an electric sports car concept with high ground clearance. Built with carbon fiber and aluminum, it shares Venturi's Fétish production sports car 300-hp electric engine. A Lithium-ion battery can provide this drivable concept with up to 300 kilometres of autonomy. According to company spokesperson Clément Dorance, "it could well become the image of Venturi in the USA".
The Buckeye Bullet, also known in Europe as the Venturi Jamais Contente (in reference to the world's first car to break the 100 km/h speed barrier, in 1899), was developed in partnership with Ohio State University (OSU) to establish new world speed records. And it did! In August 2010, this battery-fed bullet shaped vehicle reached an average 307.7 mph (495 km/h) over 1 mile in both directions on the Bonneville Salt Flats in Utah. FIA officials recorded its top speed of 320 mph (515 km/h) that made it the world's fastest EV.
Finally, the Berlingo Powered by Venturi is an electric version of Citroën's small delivery van, which will be produced in small quantity by Venturi for the French mail service La Poste.
New US Subsidiary
The Detroit Auto Show also marked a new milestone in Venturi's history: the creation of an American subsidiary called Venturi North America. Based in Columbus, Ohio, close to OSU, this new branch is headed by John Pohill, a GM and Chrysler veteran, in hopes to to establish ties with O.E. manufacturers, like Tesla did with Toyota.
Venturi was founded in France, in 1984 but got into bankruptcy in 2000. The following year, it was taken over by Gildo Pallanca Pastor and its headquarters were relocated to Monaco. After introducing some concepts in 2002 and 2003, a first production EV called Fétish was unveiled in 2004, four years before Tesla launched its Roadster.
A second generation Fétish was launched at the Paris Motor Show last October. This 1225-kg two-seater can reach a speed of 200 km/h and accelerate from 0 to 100 km/h in 4 seconds. According to the manufacturer, a full battery charge could give an autonomy of up to 340 kilometres. Venturi plans a annual production of only 10 units of this car with a price tag of 300,000 euros (about CDN$ 400,000).