The almighty SRT Viper today revealed its green side at the North American International Auto Show in Detroit. Actually, what we saw is not a supercar turned hypermiler, but rather a new Stryke Green package which features enhanced green and yellow pigments and a "liquid mercury" appearance.
"The application of the new Stryker Green exterior paint is a very detailed and intricate process, taking approximately eight hours to complete,'' said Ralph Gilles, President and CEO, SRT Brand and Motorsports.
Also on display at the NAIAS is the SRT Viper Grand Touring (GT) special package featuring standard Nappa leather seats, five-mode Electronic Stability Control, and the two-mode Bilstein® DampTronic Select suspension. The last two were previously only available in Viper GTS trim.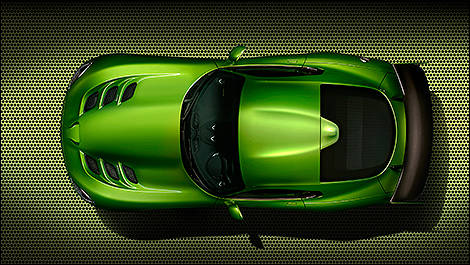 Photo: SRT