Dodge and SRT Motorsports have announced they'll enter a 2013 Dodge Dart rally car driven by four-time Rally America champ and 17-time X Games gold medalist Travis Pastrana in the 2012 Global RallyCross Championship series.
The Dart rally car is a custom-built modification of the 2013 production model; it features a purpose-built, 600-hp, 2.0L 4-cylinder mated to a Sedav 4-wheel-drive gearbox with more than 550 lb-ft of torque. The production Dart features three powertrains with up to 184 hp and 184 lb-ft of torque.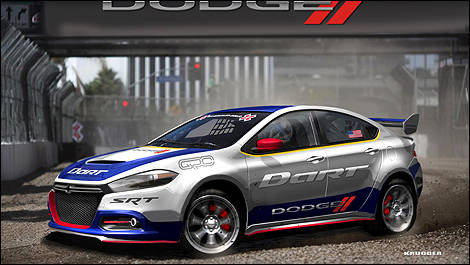 Photo: Chrysler
Pastrana, 28, owns Nitro Circus, which produces a television show, live tours, and a 3D feature film project. Evidence of Pastrana's popularity includes six million Google searches in 2010, and more than 3.5 million Facebook followers.
"Travis is a living example of what action sports activities are all about, so he fits in perfectly with the youthfulness and passion for performance of the Dodge brand and the SRT Motorsports team," said Ralph Gilles, president and CEO of SRT Motorsports. "He's proven that he can handle just about anything with wheels, so it's going to be great to watch him pilot our new Dodge Dart in Global RallyCross."
Global RallyCross combines rally racing with X Games. Now in its second season, it features seven racing events in closed-course rally tracks, and such adrenaline rushes as 70-foot jumps over racing traffic. The series kicks off May 26 in Charlotte, N.C.