Auto123.com caught up with Mercedes DTM driver Robert Wickens during the weekend of the final race of the 2013 season in Hockenheim, Germany.
However, let's first go back in time to the conclusion of 2011 when the Toronto native -- who was also the test and reserve driver of the Marussia Formula 1 team -- clinched the Formula Renault 3.5 title ahead of some famous figures such as Jean-Eric Vergne, Daniel Ricciardo and Alexander Rossi.
Despite his brilliant performance, Wickens did not graduate to F1 in 2012.
Auto123.com: Robert, why did you not make it to F1 with Marussia?

Robert Wickens: "It was nothing in particular; I just did not have the money. That's the bottom line. I was able to scrounge some money, but then other drivers came up with a lot more than I could find. I was offered to be the reserve driver again and to race in the GP2 series. I didn't want to do it.
After that Mercedes approached me for a test. They were impressed with my performance in the F1 young driver program with the Marussia and Lotus cars. 'We'd love to test you in a DTM car,' they said. I called them back. I'd be stupid not to."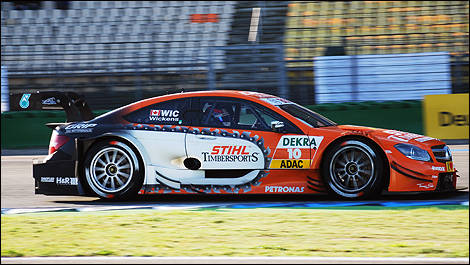 Robert Wickens, Mercedes AMG C-Coupe in Hockenheim. (Photo: René Fagnan)
Auto123.com: You had never driven a tin top before that test with Mercedes. How did it go?

Wickens: "I did not know what to expect. I tried to find any onboard videos of DTM to see how it was like to drive with a roof over my head. The test took place in Barcelona, a track I really like. The moment I left the pit lane and turned off the speed limiter, I felt comfortable. I was not all over the place, and I was not hitting curbs as I expected. Of course, it took me some time to get used to it, but after two or three runs, I was competitive."
Auto123.com: Mercedes offered you a fully sponsored ride in the DTM. Was that decision difficult to make?

Wickens: "When you get the chance to become a professional race car driver for a major car manufacturer like Mercedes-Benz or return to a junior category like GP2, the choice is easy to make. After winning the FR3.5 championship, if I hadn't clinched the title in GP2, my stock would have gone down. And if I had won, I would have just shown them again that I was good enough. I took the opportunity to make a career in motorsport."
Auto123.com: Do you think you still have a chance to graduate to F1 some day?

Wickens: "Formula 1 is not out of the question. Mercedes powers a lot of F1 cars. But first I need to prove myself here. F1 is not on the radar -- I need to win the DTM title first. But even if I never go to F1, I am fully happy here, and I really want to win the title with Mercedes."
Robert Wickens, Mercedes (Photo: René Fagnan)
Auto123.com: You scored your first pole position as well as your maiden win in DTM this season. Are you happy with your performance?

Wickens: "To be honest, it's been an up and down year. I'm happy with some of my results, unhappy with others. I'm not pleased with the fact that either I finished fourth or better, or I wasn't in the points at all. You cannot win a championship if you're not regularly in the points. I only scored points in four of the last ten races. There were problems that were out of my control, such as a stuck throttle, bad pit stops, and then there were accidents and collisions. But I think when I was in the top 5, I did a great job taking advantage of it."
Auto123.com: The level of performance of the Mercedes AMG C-Coupe decreased around the middle of the season. Any explanation?

Wickens: "It was just a lack of grip. It looks like over the summer break, the other manufacturers came with a big step in performance. We were not sitting still; we were also pushing hard. It was evident in Moscow and the Nurburgring that we were struggling in qualifying. I did win the race at the Nurburgring, but I qualified a lowly 7th.
The last time a Mercedes was in Q4 was at the Norisring when I got the pole. On the other hand, our race pace was quite good all year long. We need to be higher on the grid if we want to fight for the title. Over the last races, it's just damage limitation, scoring as many points as possible."
Auto123.com: To spice up the races, DTM introduced a DRS (Drag Reduction System), and Hankook came up with soft option tires. How do you rate these two innovations?

Wickens: "The problem with our DRS is that it is not that effective. We don't have that much power, and our cars are heavy. On this track here (Hockenheim), with the DRS opened on the whole back straight, we only gain 3/10ths of a second.
On the other hand, the option tire has been very good, very exciting. Some races have been a bit… strange, as some car manufacturers could make their option tires last for God knows how long! It's not good for the series when the option tires can do three quarters of a race. It should be a tire that can only do 10 laps and that's it. Maybe they'll change this for next year, but I haven't heard anything.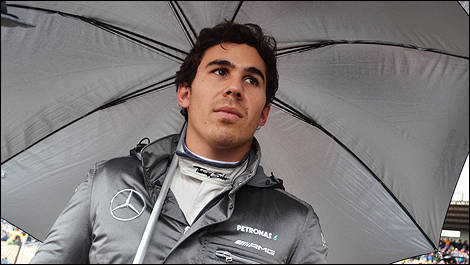 Robert Wickens, Mercedes (Photo: René Fagnan)
Auto123.com: Most fans don't know that you worked pretty hard this year…

Wickens: Yep. I've been doing an internship at HWA. When I moved to Germany in January, I immediately started working 9 to 5 every day. I spent the first two months in the engineering department. Then I spent time in the other departments of the company: carbon shop, machine shop, engine and gearbox departments, and quality control. It was pretty intense, and I never expected to be punching a time card every day! I needed to train in the gym three hours a day, and I could not lie down on my couch before 11 at night! I'd like to do it again next year, but certainly not on a day-to-day basis."