Two consecutive finishes outside the points have put the defending DTM champion Bruno Spengler in a tough spot.
In the fight for the 2013 title, Spengler has dropped to fourth, 39 points behind leader Mike Rockenfeller. Only three races remain on the calendar.
Reflecting on the last two rounds, in which he tangled with an Audi driver, the Canadian concluded they might have cost him a second consecutive crown: "If I am not champion again, it's definitely in these two races where it's cost us," he is quoted saying by British magazine
Autosport
.
"Everyone who has eyes can see what happened in Moscow and what happened (at the Nürburgring), so I don't think I need to comment on this," he added referring to the contacts he had with Miguel Molina in Moscow, and with Filipe Albuquerque last weekend.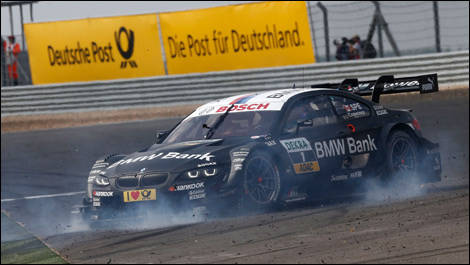 Can Bruno Spengler still turn his season around? (Photo: DTM.com)
Audi's DTM boss Dieter Gass was quick to refute the theory according to which he told his drivers to target Spengler, however.
"After Moscow, I said it already that I don't want to see anyone taking out a championship contender," he told
TouringCarTimes.com
. "We were fighting backwards and forwards, and I don't think it was harder on Bruno than it was on any of the other Audis."
In any case, the Canadian refuses to quit: "I will be back strong as a lion in Oschersleben," he also said.
"39 points looks hard as there's only 25 for a win, but it's still possible."