From press release
Part of everyday life for professional racing drivers are frequent trips away from home. Even though these can often be long, the chances to explore the areas surrounding the circuits are few and far between.
They don't get to experience life in some of the most beautiful cities and soak up the atmosphere that makes them unique. However, ahead of the third DTM race of the 2014 season in Budapest, the eight BMW DTM drivers were given the rare opportunity to do just that.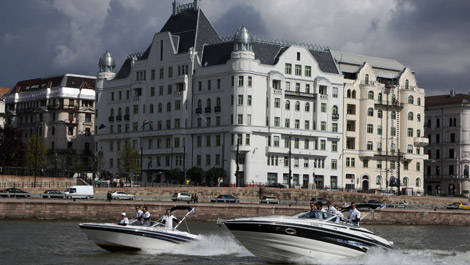 BMW drivers visit Budapest on two high-speed boats (Photo: BMW)
Augusto Farfus, Joey Hand, Bruno Spengler, Martin Tomczyk, Timo Glock, António Félix da Costa, Marco Wittmann and Maxime Martin boarded two powerful motorboats for a trip down the Danube, taking in spectacular views of the centre of Budapest and its many landmarks, including the suspension bridge known as the Chain Bridge, Gellert Hill and its citadel, and the impressive parliament buildings.
It is no coincidence that the Hungarian capital's panorama is a World Heritage Site.
"The tour was a lot of fun," said Wittmann, who goes into the third DTM weekend of the year lying third in the Drivers' Championship with 25 points. "We do not usually get to see the cities we travel to. However, we were given a unique view of Budapest from the Danube. It really is a fantastic city."
One of the highlights of the tour was the trip under the famous suspension bridge. With the Buda Hill in the background, the historic bridge, which opened in 1849 and was rebuilt in 1949, attracts countless tourists to Budapest every year.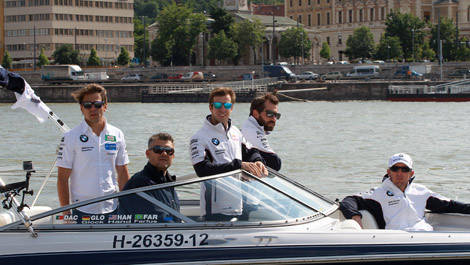 Augusto Fargus, Antonio Felix da Costa, Timo Glock and Joey Hand admiring Budapest (Photo: BMW)
"I drove across that bridge on my demonstration run at the start of May – and now I have seen the outstanding view from the water too," said Glock. "I just really like this place. And it made a nice change to explore it together with my fellow drivers on board our motorboats."
"My first thought was: where can you go fishing on the Danube?" said Hand, who spends a lot of time on the Pacific off the coast of California when not at the racetrack.
"All that was missing was my fishing rod. I didn't have it here – so I will have to go fishing for points at the circuit on Sunday instead. Seriously though: I love the water and can really relax on it. Therefore, I really enjoyed this extraordinary city tour."