So the 2013 season is coming to a close, as usual, with one last visit to Hockenheim, the track that hosted the season-opener in April.
Same time last year, the drivers' championship was coming down to an epic duel between Gary Paffett (Mercedes) and Bruno Spengler (BMW). No showdown this year, as consistency brought Rockenfeller the coveted crown in Zandvoort already.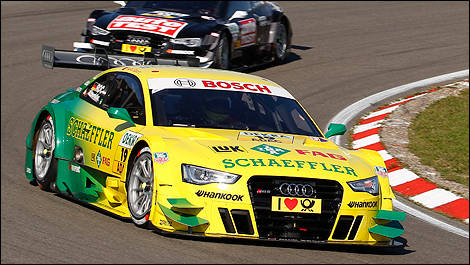 Mike Rockenfeller, Audi (Photo: DTM)
Behind the first-time king, vice-champion Augusto Farfus (BMW) is also out of reach. But four drivers can still claim third spot overall: Christian Vietoris (Mercedes), Robert Wickens (Mercedes), Spengler, and Paffett.
The fight for the manufacturers' title promises to be much more interesting. Last year's undisputed champion (driver, manufacturer and team) BMW had a rough year, but could still win a second consecutive championship, as it only trails Audi by eighth points. Two consecutive bad races in Oschersleben and Zandvoort (with a total tally of only two points) took Mercedes out of the running.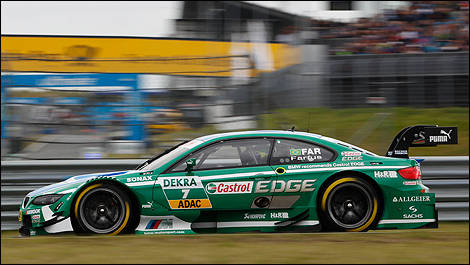 Augusto Farfus, BMW (Photo: DTM)
As far as Canadians Wickens and Spengler are concerned, it will be about finishing on a high in Hockenheim.
Spengler, the defending champion, suffered one of the worst seasons of his career, in his second year with BMW. He was leading the championship with one win after three races, but plummeted soon after.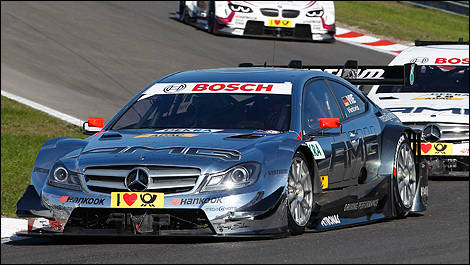 Christian Vietoris, Mercedes-Benz (Photo: DTM)
With his BMW M3 losing its edge, he was pilling one bad incident on top of the other. He hit rock bottom at Oschersleben, when he collided with his countryman. If he does do well in Hockenheim, he could put 2013 behind him.
On the other hand, Wickens will want to top a great season, his second in the DTM, that saw him clinch his first win at the Nürburgring, at the wheel of his C-Coupe. Had he not clashed with Spengler at Oschersleben, he would have had a shot at the title. With a good result in Hockenheim, he could forget about the last two races (two scoreless contests) and finish as the best Mercedes driver.
You can follow all the action with us, as Auto123.com will be covering this week-end's race live from the Hockenheimring.