From press release
Maximillian Buhk, Bernd Schneider and Maximillian Götz took overall honours in the 24 Hours of Spa, driving their HTP Motorsport Mercedes AMG SLS GT3.
Shortly after the twelve-hour mark, when the rapid Marc VDS trio had retired, the race became a straight fight between the #150 Manthey Racing Porsche of Marc Lieb, Richard Lietz and Patrick Pilet and the German HTP Motorsport team's Mercedes SLS.
The two teams were actually split by a gap of over two minutes, but differing pit strategies allowed them to at times race just inches apart. This gap grew due to a quicker brake change for the Mercedes, which made its stop for new pads and discs in the eleventh hour, while the Manthey crew serviced their brakes at the thirteen-hour mark.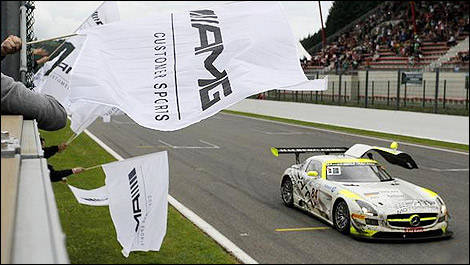 Photo: Total24hours.com
For the majority of the race the two German cars were the only two cars on the lead lap, but a mistake by Manthey's Patrick Pilet, who overtook while behind a safety car, would prove extremely costly and resulted in a drive through penalty for the Porsche team. Given the speed and reliability of the #84 Mercedes, a two-lap margin was a near impossible deficit to recover from.
In all, six different cars led the 2013 Total 24 Hours of Spa and between them there were 44 lead changes; over 30 cars retired from the starting 65, a truly tantalising statistic.
Duncan Cameron, Matt Griffin, Alex Mortimer, and Toni Vilander took the Pro-Am class honours in the #59 AF Corse Ferrari after an epic fight with the #71 SMP Ferrari, while Jean-Luc Blanchemain, Jean-Luc Beaubelique, Patrice Goueslard and Fred Bouvy dominated the Gentlemen Trophy category with the #20 SOFREV ASP Ferrari 458 Italia, winning the 2013 Trophy in the process.