The collision that ruined the races of Mercedes' teammate Nico Rosberg and Lewis Hamilton on lap 2 of the Belgian Formula 1 Grand Prix yesterday will undoubtedly have major consequences.
But first, the FIA is not expected to launch a retrospective investigation into the clash despite Hamilton's claim his teammate confessed to causing the collision during the Mercedes post-race debrief.
In fact, close examination of the collision reveals that Rosberg suddenly swung back into the leading Mercedes of Hamilton in a second movement through the chicane
However, sources close to the governing body have revealed the FIA regard the incident as closed after the Spa stewards adjudged the collision as a racing incident.
Several former F1 drivers put the blame on Rosberg.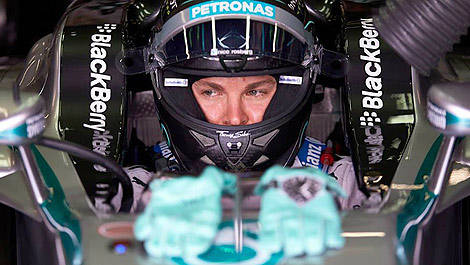 Nico Rosberg, Mercedes W05. (Photo: WRi2)
"It was outrageous. I think with everything we've seen and know about now with Nico saying he didn't want to back out of a collision that was obviously going to happen – if you don't back out you're going to hit something. He's got history; we have to go back to 2012 where he actually drove Lewis Hamilton off the track in Bahrain, and Fernando Alonso in exactly the same race," said Johnny Herbert on
Sky Sports F1
.
Martin Brundle saw things a bit differently. "My interpretation of his words is 'I refuse to get out of the way' rather than going and hitting him," he said.
"If you run into somebody you're guaranteed to break your wing, you're nowhere near guaranteed to puncture another driver's tyre, although it's possible. It seems to me he's saying that 'I deserved more space' – which he didn't. Unless you're fully alongside the rules are the driver in front is allowed to take the normal racing line, although he can't force you off the road necessarily, and there is an escape road there," he explained.
"The rules say you have to have a significant part of the car alongside [to attack] but there's not a significant part alongside, he was never in a position to mount a challenge," declared Anthony Davidson.
"It was clumsy driving from an experienced driver. There was a double movement on the wheel, went to turn in once and then again and it was on that second time that the contact was made. If that was an inexperienced rookie driver, he would be hammered. Hamilton is on the normal racing line and Rosberg is an area where he had to back out. I can understand why people are so unhappy with the move," Davidson said.