From GMM

The plans of F1's newest team are marching on.
Although it will only debut in 2016, the American outfit Haas Formula has announced a name tweak.
The team is now called Haas F1 Team, with the name-change decision made by founder and chairman Gene Haas "to better correlate his team with motor racing's most prestigious series".
Gene Haas, who also co-owns a leading Nascar team with Tony Stewart, has also this week launched an official website for the F1 team and social media pages.
Explaining the name-change, Haas - whose company Haas Automation already sponsors Ferrari - said: "When you hear 'F1' you know exactly what it is -- a global racing series that showcases the latest technology and attracts the best talent in engineering and design."
The press release issued on Tuesday said construction of a F1 headquarters adjacent to the Nascar factory in Kannapolis, North Carolina is "scheduled to be completed in November".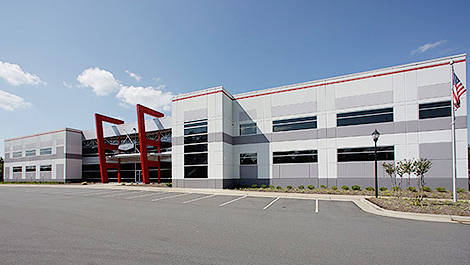 Stewart-Haas' factory at Kannapolis, North Carolina. (Photo: Stewart-Haas Racing)
Gene Haas told
Forbes
recently that his interest in F1 was piqued when officials of the USF1 project approached him to get involved in the ultimately stillborn team.
"I started watching the races more out of curiosity about it," he told the F1 business journalist Christian Sylt. "I was kind of amazed that there weren't more people trying to do it. There are so many super rich people in America I kind of thought 'why haven't any other Americans done this?'"
The next step for Haas is to announce a European base for the team, probably in England.
He said: "We are not going to be swayed by any smooth talking about dreams. This is a tough business and we know what we have got to do. There is a tremendous amount that we need to learn from this whole sport because we are pretty novice at it."