Former Formula 1 driver, Nelson Piquet Jr. is set to make his NASCAR Sprint Cup Series debut this weekend at Watkins Glen International, his first national series start of the season.
Piquet, a road racing specialist, will drive the Randy Humphrey Racing No. 77 Ford in Sunday's Cheez-It 355 at The Glen.
Since 43 cars are listed for the 43-car event, Piquet will not need to qualify based on his speed in Coors Light Pole Qualifying unless another team files a late entry.
The 29-year-old Brazilian competed in F1 in 2008 and 2009 with Renault.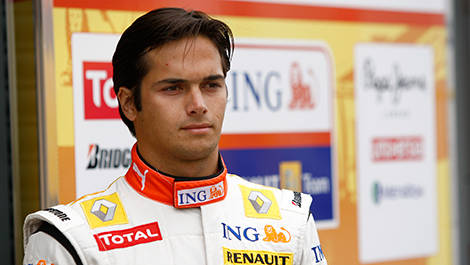 Nelson Piquet Jr., Renault F1 Team, 2008 (Photo: Lotus)
Following that, he contested two full seasons in the NASCAR Camping World Truck Series from 2011-12, then raced full-time in the NASCAR Nationwide Series in 2013. This year, he's been competing in Rallycross events, including taking the bronze medal at the X-Games in June.
Sunday's race also marks the return of the Randy Humphrey-owned organization to the Sprint Cup circuit. Dave Blaney has driven the car in four events this season, but the team either failed to qualify or withdrew from 11 other races.
Humphrey said in June that the team would take a hiatus, starting with the event at Sonoma Raceway, while it was "retooling things."