Here are 6 noteworthy details about the Formula 1 Grand Prix of China that will be held this weekend in Shanghai.
* The first Chinese Grand Prix was held September 26, 2004. Rubens Barrichello (Ferrari) started on pole and won the 56-lap race from Jenson Button (Honda) and Kimi Raikkonen (McLaren).
* The circuit layout makes overtaking difficult. The track surface can be bumpy under braking, especially in T14 where brake locking is possible". However, the Shanghai circuit is one of the easiest circuits of the year on brakes.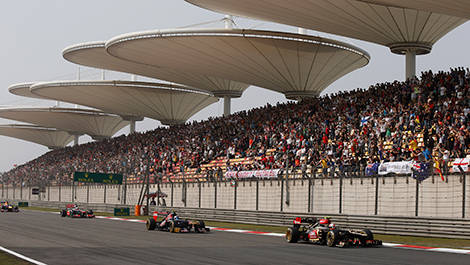 2013 Grand Prix of China (Photo: Lotuds F1 Team)
* Only two drivers have won twice in China: Fernando Alonso (2013 with Ferrari, and 2005 with Renault) and Lewis Hamilton (2011 and 2008 with McLaren).
* Weather conditions in China vary wildly; from 29°C to under 20°C has been seen over a race weekend. These variations will change track conditions and therefore car behaviour. Wind speed and direction have a big influence on the car.
* Maximum speed in qualifying last year was set by Nico Rosberg (Mercedes) at 319.8 km/h. During the race, Daniel Ricciardo (Toro Rosso) was the fastest at 320.9 km/h.
* The 1.175-km straight in Shanghai is the longest of the season. It will see the V6 turbo hybrid power units at maximum revs and full speed for just under 20 seconds, around 20% of the lap.