The 2014 Belgian Grand Prix is just around the corner. It will be held on one of the most spectacular and gruelling road courses in the world – Spa-Francorchamps.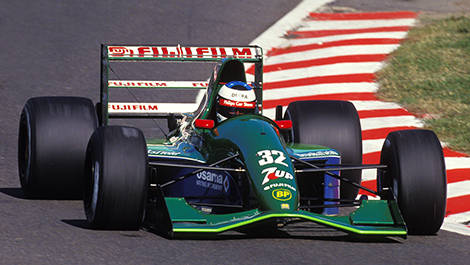 Michael Schumacher, Jordan-Ford 191 (Photo: WRI2)
1
In 1991, a young unknown German contested his first F1 Grand Prix in career in Belgium. Rookie Michael Schumacher replaced Bertrand Gachot in the Ford-powered Jordan 191. This marked the beginning of a prodigious career.
2
At the end of the old pits of the circuit, at Eau Rouge, the track starts to climb very sharply, with a gradient close to 25%, equivalent to one of the steepest climbs in the Tour de France cycling race.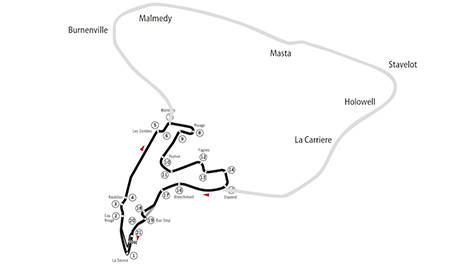 Comparing the old and new Spa-Francorchamp layouts.
3
Spa-Francorchamps used to be a much longer track. The old layout was just over 14 kilometres long and a lap took more than three minutes to complete. It was a very fast circuit and, by the late 1960s, it was shortened because too dangerous.
4
Seven-time World Champion Michael Schumacher holds the record with six victories at Spa. Next on the list is Ayrton Senna, who won the race five times between 1985 and 1991. Meanwhile, Jim Clark won four straight races on the old Spa layout from 1962 to 1965.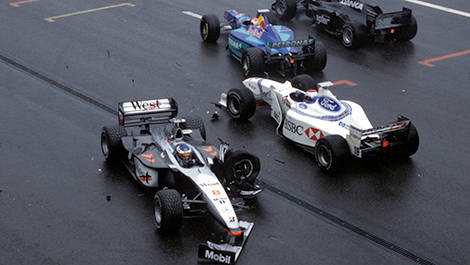 Damaged cars stopped at La Source hairpin. (Photo: WRI2)
5
A gigantic pile-up marked the start of the 1998 (very) wet race. After the hairpin corner, David Coulthard lost control of his Mercedes-powered McLaren, causing a massive collision involving 13 drivers, which led to the race being stopped.
6
Ferrari driver Gilles Villeneuve lost his life May 8, 1982 during the second qualifying session of the Belgian Grand Prix at Zolder.
7
The Belgian Grand Prix also took place in Nivelles (1972 and '74) as well as Zolder (1973, 1975-82, '84). Spa-Francorchamps welcomed all the other races with the exception of 1957, '59, '69, '71, 2003 and 2006 when there were no Belgian Grands Prix.