From GMM
Audi driver Andre Lotterer made his Formula 1 debut at Spa-Francorchamp, driving a Caterham-Renault.
DPA
news agency said there were more journalists at the Lotterer media interviews on Thursday than there were to hear reigning quadruple world champion Sebastian Vettel's thoughts.
"Andre absolutely deserves it, even if he is not sitting in the best car," Vettel admitted. "In my karting days he was one of my idols."
Officially, the 32-year-old reigning Le Mans winner's outing for Caterham - as confirmed by manager Werner Heinz - is a "one time thing".
According to Germany's
Sport Bild
, it is being facilitated by former grand prix driver Bertrand Gachot, whose energy drink company Hype is sponsoring him.
"Actually Gachot didn't want Hype in Formula 1, but the idea of having Andre in Belgium was too good," Heinz smiled.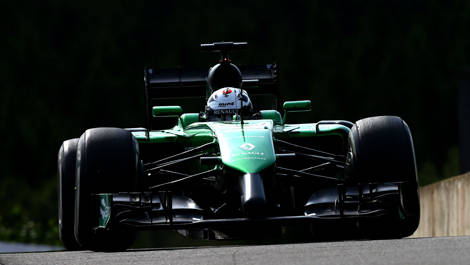 Andre Lotterer, Caterham CT05 (Photo: WRI2)
The big rumour now is that Lotterer, also a star of the premier Japanese open wheeler series Super Formula, could return to the green car at Suzuka.
"I accepted Caterham's offer because I have nothing to lose," said the Belgian-raised German, who is also under contract to Audi's works Le Mans squad.
He said Audi had no problem with releasing him for a weekend that did not clash with his official duties.
"Audi came very quickly and are very happy for me," said Lotterer. "In Japan they (Team Petronas TOM's) were not so happy, because I have to miss the race in Motegi in order to be here.
"But just because I am here does not mean that I am starting to dream about Formula 1," he told
Speed Week
. "I will not leave Audi -- I'm not crazy."