Auto123.com
talked today with François Dumontier, promoter of the Grand Prix du Canada, about the new 10-year contract with Formula 1.
The future of the Canadian Grand Prix is secure until 2024. The new contract specifies that a new pit building has to be built. When will that happen?
"A clause of the new contract specifies that the City of Montreal agrees to build new garages in time for the 2017 Grand Prix. The whole project will be headed by the City of Montreal and the Parc Jean-Drapeau [the island where the circuit is located]. However, we will be consulted as we will be the users of the building and we are well aware of the requirements of the FIA," stated Francois Dumontier, president of Groupe de course Octane inc., and promoter of the Formula 1 Grand Prix du Canada.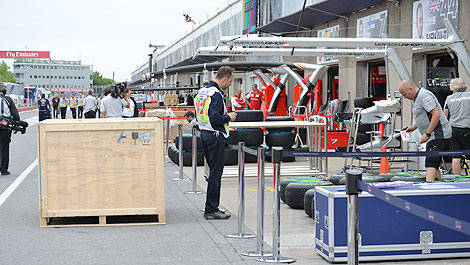 Les stands du circuit Gilles-Villeneuve. (Photo: René Fagnan, Auto123.com)
Where will the new garages be located?
"They will most likely be built around the same place. They will not be located on the other side of the track, near the beach," he added.
There's not been a second race held at the Gilles Villeneuve circuit since you cancelled the NASCAR Nationwide race. Will we see a second race soon?
"Our agreement with Parc Jean-Drapeau allows us to stage a second race every year. However, considering the major work required to build the new garages for 2017, it's not a good idea to try to secure a second race at this stage. It will be impossible to use the track for a certain period of time. One more thing: In 2017, Montreal will be celebrating the 375th anniversary of its foundation. That would be a good time to stage a second race…" Dumontier said.
There are wild rumours circulating that Montreal billionaire, Lawrence Stroll, is interested in buying into a Formula 1 team. Is that true or not?
"Honestly, I haven't talked to Lawrence Stroll for quite a long time. We also know his love and passion for motorsport, so if he becomes involved with an F1 team, that would be fantastic for us, especially if he runs it under a Canadian banner. Now, in regards to his son Lance, it's great news that he has clinched the title of the Italian Formula 4 series. It would be great for us to have a Canadian, and a Montrealer, in Formula 1 one day," Dumontier told
Auto123.com
.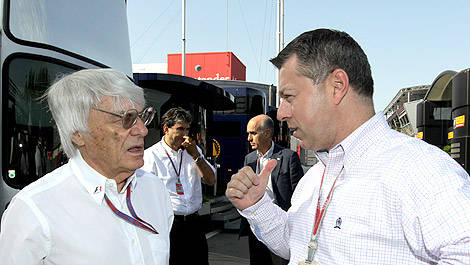 Bernie Ecclestone et François Dumontier. (Photo: WRi2)
Are you offering new tickets for the 2015 edition of the Canadian Grand Prix?
"Yes, indeed. We are trying to widen our price range. We are selling trios of the third year in succession. These tickets allow you to change seat every day, in different grandstands. For 2015, we're introducing the 'Econo' trio at $255, which allows the holder to have a reserved seat in grandstand 31, 33, and Popular, located after the hairpin corner. We'll have other exciting news in the coming months," Dumontier concluded.