Caterham F1 Team has confirmed that American Alexander Rossi, Caterham F1 Team Reserve Driver and Caterham Racing GP2 race driver, will drive in two FP1 sessions this season.
Rossi will be behind the wheel of one Caterham CT05-Renault at the Canadian Grand Prix in Montreal in June and the US Grands Prix in Austin late in the season.
Rossi has been flying the US flag as one of Caterham F1 Team's Reserve Drivers since 2012 in addition to his role as one of the team's primary simulator drivers.
He has completed multiple FP1 sessions and test days for the team since 2011 and Montreal and Austin will mark his first tastes of 2014 machinery on track, building on the extensive mileage he has already accumulated in the team's state-of-the-art simulator at its Leafield, UK base.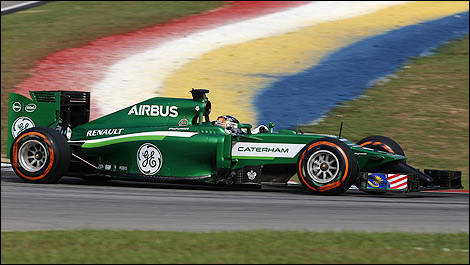 Caterham CT05-Renault. (Photo: WRi2)
This is the continuation of Rossi's development towards a F1 full time race seat and reflects the ongoing commitment that Caterham have to see him reach his ultimate goal.
"Each time I step into F1 machinery there is an important job to do. Montreal and Austin are important races for me and I want to thank Caterham for the opportunity to continue my development to a full time race seat in F1," said Alexander Rossi in a team press release.
"My GP2 program combined with my F1 team Reserve Driver duties give me invaluable insight and experience for my future. I've built up a lot of hours in the F1 simulator already this year, but Montreal will be my first visit behind the wheel of the CT05 on track. I look forward to a positive runplan for both the Canadian and USA sessions."