Formula1.com
has met with American entrepreneur Gene Haas in Montreal. Haas is the founder, president, and sole stockholder of Haas Automation, and founder of the planned Haas Formula 1 team.
Despite being mostly known in the NASCAR business, Haas is also a long-time F1 fan.
"I knew about F1 racing back in the seventies - when I was a mechanic at a Formula 5000 team the year before F1 went to Long Beach", Haas said.
Haas was asked why he decided to come into F1 while the sport is alien to most US fans?
"I don't think that it is that alien. F1 has been working in the American mind-set for decades. I would even go so far as saying that Americans like F1 racing," he said.
Haas then explained he intends to use his F1 team as a promotional and marketing platform to promote his company.
"We've used NASCAR to help sell our Haas Automation products in America - we sell CNC machine tools - and racing in NASCAR has been very good at that. So the idea was to join F1 and take our brand and raise awareness of it - by taking it to the premier brand of motorsport. F1 is a premium brand in the rest of the world and associating ourselves with that will help sell our products throughout the world. We already sell a lot of machine tools in England," Haas explained.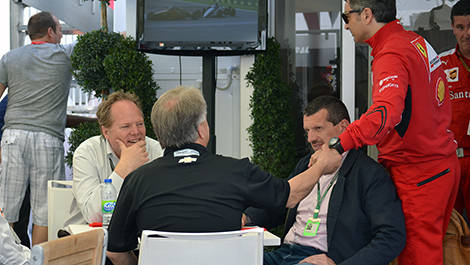 Gene Haas shakes hand with Ferrari boss, Marco Mattiacci, with Gunther Steiner watching. (Photo: René Fagnan)
Formula 1 teams are generally pretty large organizations. Where will Haas Formula settle?
"I think when you have 600-plus people nobody really knows what everybody is doing. I think in racing you need a small group of core people who know what they are doing - in that way you get a lot more accomplished than with a huge organisation. That's how we raced in the US and that's our goal in F1. Our plan is not to make every single part for F1 ourselves. As far as money is concerned, we can do F1 with or without sponsors," he continued.
"The biggest part is the power train, and that's the majority of the back of the car, so if we can wrap up a deal with Ferrari - in fact right now there are only three engine manufacturers - that would almost mean half the car! So we will have to be responsible to build the front half of it," Haas explained.
Haas also confirmed that former IndyCar racer Danica Patrick appears on his short list of potential drivers.
"She surely fits the bill. She is a woman in a man's sport - that would attract a lot of attention. She weighs about 50 kilos - which these day sounds fantastic - so indeed she's got a lot of attributes that would be good to have," Gene Haas declared.
The team plans to start racing in 2016. What's the timeline from now on?
"We work backwards: we know that the car has to be ready in December 2015. I can imagine the car actually being built sometime in July next year. Dallara will probably be a subcontractor [for the chassis]. Nothing has been decided yet so I don't want to read anywhere that Dallara would be anything other than maybe a supplier of parts," Haas ended.