Anthony Hamilton has urged his son, Mercedes AMG driver Lewis to enjoy the pressure that comes with this year's Formula 1 World Championship battle.
Lewis claimed victory on the streets of Singapore last Sunday while his main championship rival, his teammate Nico Rosberg, suffered a costly retirement.
Hamilton is now leading the championship with a three-point advantage over Rosberg.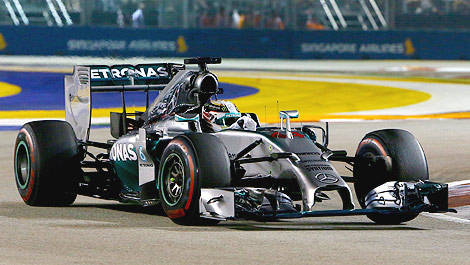 Lewis Hamilton, winner in Singapore. (Photo: WRi2)
Speaking to
Press Association Sport
, Lewis' father Anthony said he feels Lewis has taken to the track this season with a very different mindset to past years, and that is to have some fun.
"He had a plan this year and he's managing himself, that plan, what he wants, really, really well," said father Anthony.
"On occasions I've reminded him and said 'when you think about it, we're in Formula 1, an amazing sport to be in, and never forget it, so enjoy every minute of every day'.
"He'll have bad days but, do you know what, it actually doesn't matter because we are at the top of the greatest sport in the world.
"If there's pressure, that's the bonus that comes with winning, but really this is a life you have to enjoy because you are only here for a short period of time.
"It's great to win, but the key is enjoying it and he is," Anthony Hamilton explained.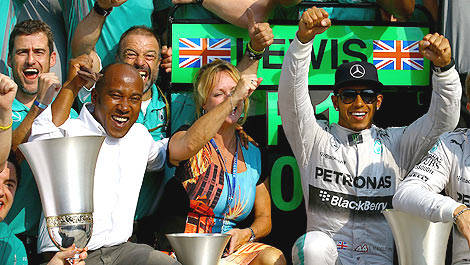 Anthony Hamilton celebrating Lewis' victory at Monza, with Mercedes. (Photo: WRi2)
Father Hamilton has been alongside Lewis during most of his career: in karting, Formula Renault 2.0, Formula 3, GP2 and Formula 1. He admits the pressure of seeing him race still hard to take.
"It's the desire for your kid to be safe and to get what he wants," admitted Anthony Hamilton.
"It's the same feeling I've always had from when Lewis used to be at the back of the grid when he first started go-karting, watching that yellow helmet and thinking 'come through, come through, come on'.
"When it happens it's a great feeling, but the stress level is exactly the same whether it's F1 or karts. It's just unreal. I'm going through the same pain I went through all those years ago - I thought it was over!" he declared.