From GMM

Lewis Hamilton has pointed the finger at Pirelli in the wake of last weekend's Italian grand prix.
In fact, despite his psychological title war with teammate Nico Rosberg, the Mercedes driver says the tires supplied at Monza would have contributed to the German's highly controversial 'mistakes' that handed him victory last Sunday.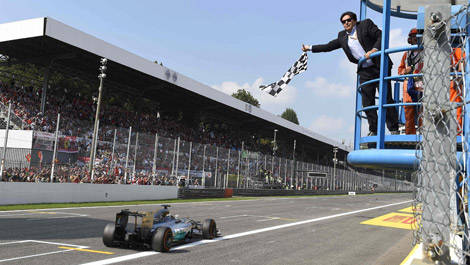 Lewis Hamilton, Mercedes AMG, winner at Monza. (Photo: WRi2)
"Honestly," Hamilton is quoted by Brazil's
Totalrace
, "the tires were too good last weekend.
"It was basically very easy in terms of making one (pit) stop.
"There was only one risk," the Italian grand prix winner explained, "and that was if you got a flat-spot.
"That's why we saw so many drivers going straight at the first chicane -- to avoid damaging the tire, otherwise they would have had to convert to two stops which would be much slower," said Hamilton.
"I think Monza is such a cool track but I don't know if it was a cool race to watch -- more battles, more pitstops would have been nice. If they (Pirelli) had brought a softer tire it would have been a greater challenge, because the tire we had was really easy to look after," Lewis Hamilton added.