As the 2014 Formula 1 season enters its final stretch overseas, former F1 champion Nigel Mansell says it is Mercedes AMG that will eventually decide who will become the champion.
Mercedes' teammates Nico Rosberg and Lewis Hamilton are fighting ferociously for this year's title.
Their controversial collision in Belgium proved that the pressure is now incredibly intense inside the team and their relationship has become quite stormy.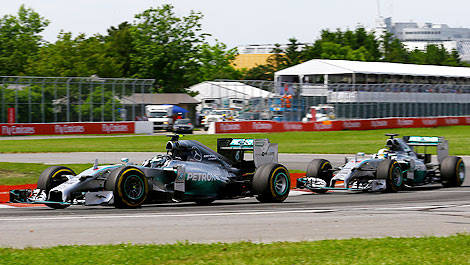 The two Mercedes drivers in Montreal. (Photo: WRi2)
Talking to the Alan Brazil
Sports Breakfast
radio show in the UK, Mansell -- the 1992 World Champion – said that rather than letting the duo fight for the title, Mercedes AMG will use team orders to pick their champion.
"Nico Rosberg and Lewis Hamilton have got [the title] in the bag between them," Mansell said.
"I think [who wins] is totally in the hands of the powers that be at Mercedes. Whoever is favoured by them is the person who will win the championship.
"I know that's a tough thing to say but they've got two great drivers there and they are going to manage it how they want to," Nigel Mansell declared.
"I hope they let them fight it out at the end of the year but I'm sure if there are any other repercussions [from their rivalry] they will enforce team orders in the next few races," the Briton said.