Lewis Hamilton helped Mercedes stay on top of the early season's hierarchy by snatching pole position away from Red Bull's Daniel Ricciardo, ahead of the Australian Grand Prix, round one of the 2014 F1 world championship.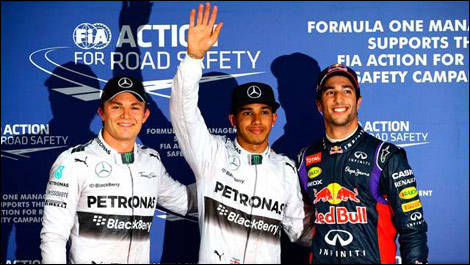 Photo: WRi2
The Brit took his W05 around a wet Albert Park Circuit in 1min44.231s to top the timing sheet at the very last moment of Q3. This is the 2008 world champion's 32nd career pole position, and Mercedes 100th.
"It's been an interesting weekend so far here in Melbourne," commented Hamilton.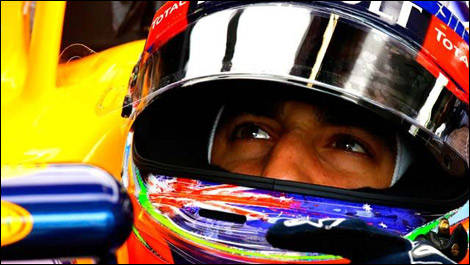 Australian Daniel Ricciardo will start on the front row (Photo: WRi2)
"It's the first time I've driven the car on the limit in the wet, but it felt great and I'm so happy with the job the team has done. To be on pole here today is a fantastic result for us. It was great fun and I'm really looking forward to the race tomorrow.
"It's going to be tough, but we'll do our best and see what happens."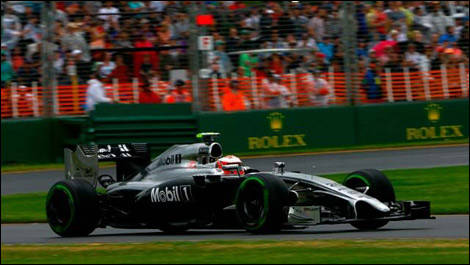 Kevin Magnussen rocked his first career qualifying session in F1 (Photo: WRi2)
Hamilton's teammate Nico Rosberg qualified third, five hundredths of a second behind second-place man Daniel Ricciardo.
Mercedes-powered cars took six of the top ten positions.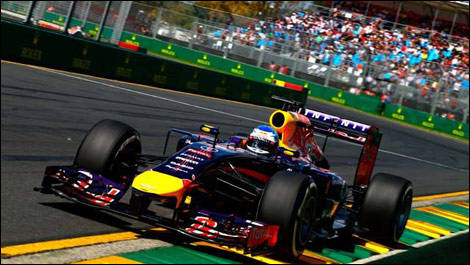 Where is Sebastian Vettel? Answer: behind teammate Daniel Ricciardo (Photo: WRi2)
Qualifying results* – Australian Grand Prix (round 1 of 19)
1.Lewis Hamilton (Mercedes W05) - 1'44"231 - Q3
2.Daniel Ricciardo (Red Bull RB10-Renault) - 1'44"548 - Q3
3.Nico Rosberg (Mercedes W05) - 1'44"595 - Q3
4.Kevin Magnussen (McLaren MP4/29-Mercedes) - 1'45"745 - Q3
5.Fernando Alonso (Ferrari F14-T) - 1'45"819 - Q3
6.Jean-Eric Vergne (Toro Rosso STR9-Renault) - 1'45"864 - Q3
7.Nico Hulkenberg (Force India VJM07-Mercedes) - 1'46"030 - Q3
8.Daniil Kvyat (Toro Rosso STR9-Renault) - 1'47"368 - Q3
9.Felipe Massa (Williams FW36-Mercedes) - 1'48"079 - Q3
10.Jenson Button (McLaren MP4/29-Mercedes) - 1'44"437 - Q2
11.Kimi Raikkonen (Ferrari F14-T) - 1'44"494 - Q2
12.Sebastian Vettel (Red Bull RB10-Renault) - 1'44"668 - Q2
13.Adrian Sutil (Sauber C33-Ferrari) - 1'45"655 - Q2
14.Kamui Kobayashi (Caterham CT05-Renault) - 1'45"867 - Q2
15.Valtteri Bottas (Williams FW36-Mercedes) - 1'48"147 - Q3 **
16.Sergio Perez (Force India VJM07-Mercedes) - 1'47"293 - Q2
17.Max Chilton (Marussia MR03-Ferrari) - 1'34"293 - Q1
18.Jules Bianchi (Marussia MR03-Ferrari) - 1'34"794 - Q1
19.Marcus Ericsson (Caterham CT05-Renault) - 1'35"157 - Q1
20.Romain Grosjean (Lotus E22-Renault) - 1'36"993 - Q1
21.Pastor Maldonado (Lotus E22-Renault) - no time - Q1
22.Esteban Gutierrez (Sauber C33-Ferrari) - 1'35"117 - Q1 **
* Unofficial timing
** Five-place grid penalty for gearbox change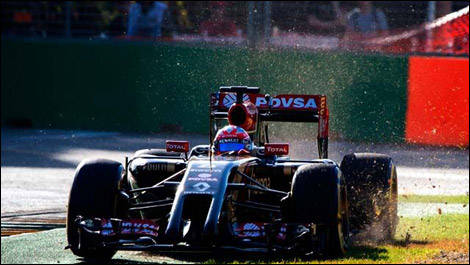 Difficult start for Lotus (Photo: WRi2)