Caterham Formula 1 Team announced Tuesday a series number of significant milestones in the ongoing growth of the team.
With a raft of new technical changes to F1's rules for 2014, Caterham has decided to work its aerodynamic department differently.
"Among the news we could share were two very significant deals that will definitely pay dividends for us in 2014 and for years to come – the first being our renewed partnership with Dell/Intel, the second being the migration of our
wind tunnel program to the Toyota Motorsport (TMG) facility
in Cologne, Germany," said Caterham team principal Cyril Abiteboul.
Abiteboul explained that the new deal with Dell/Intel represents a major upgrade to the team's HPC (High Performance Cluster), the supercomputer that powers all our IT needs. This has dramatically uprated the CFD capability, something which will be particularly important with the rule changes governing wind-tunnel usage in 2014.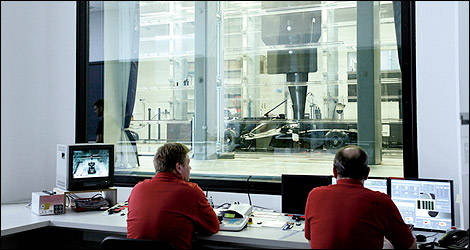 Engineers monitoring the Toyota wind tunnel. (Photo: TMG)
"In addition, we are moving our wind tunnel program to TMG in Germany", Abiteboul continued.
"The TMG facility allows us to run at 60% scale, more than the 50% scale we have been using to date, and that has obvious benefits in increasing the accuracy of the data generated in the tunnel. Ally that to our increased partnership with Dell/Intel and it's safe to say our Design Office now has an IT infrastructure and wind tunnel that are on a par with any team in F1," he explained.