Australian Daniel Ricciardo of Red Bull Racing captured his maiden Formula 1 victory at the end of a wild, action packed Canadian Grand Prix Sunday.
From pole position, Nico Rosberg jumped into the lead. But moments later, both Marussias collided and were out of the race, bringing out the Safety Car. Every driver was asked to save fuel.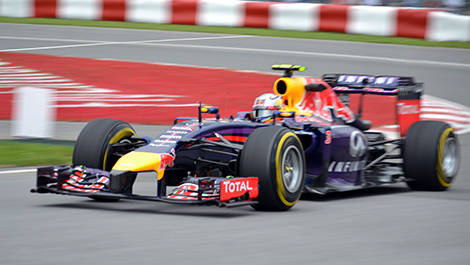 Daniel Ricciardo, Red Bull Racing (Photo: Rene Fagnan)
Restart happened on lap 7. And Rosberg immediately started to pull away from Sebastian Vettel and Lewis Hamilton. At the of lap 9, Hamilton used his DRS to pass Vettel.
Behind them, Valtteri Bottas and Felipe Massa were running a strong race.
Rosberg stopped for a set of soft tires on lap 18, long after most rivals did. His teammate Hamilton stopped one lap later.
Meanwhile, Sahara Force India drivers, Sergio Perez and Nico Hulkenberg, stretched their stint and ran 3rd and 4th, respectively. Then, there was a great battle for 4th place between "Hulk" and Vettel.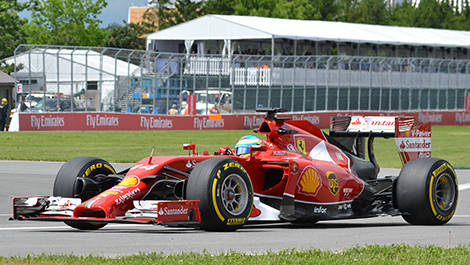 Fernando Alonso, Ferrari (Photo: Rene Fagnan)
On lap 24, Rosberg and Hamilton ran together. At the end of lap 24, Rosberg locked up his right front wheel, missed the last chicane and came back in front of his teammate! This led the race stewards to investigate Rosberg's move. Eventually, Nico was just warned for doing so.
Perez stopped finally, having completed 35 laps on a set of super softs!!
On lap 36, both Mercedes started running slower, some two seconds slower than most other front runners! "Loss of power" was their problem.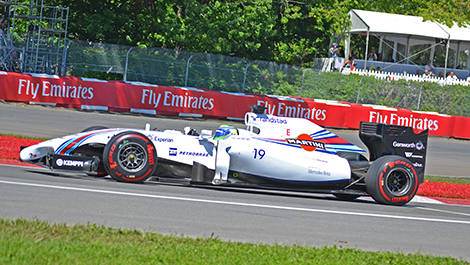 Feipe Massa, Wiliams (Photo: Rene Fagnan)
On lap 40, Kimi Raikkonen (Ferrari) spun when exiting the hairpin, dropping him to 15th. Moments later Hulkenberg pitted from second place. The order was Rosberg, Hamilton, Massa, Fernando Alonso, Perez and Ricciardo.
Hamilton stopped for tires on lap 43. Hamilton pitted one lap later. He rejoined the track behind Massa and ahead of Rosberg!
Moments later, Hamilton's car began to smoke, having burned its rear brakes. He pitted and retired from the race. Rosberg was experiencing a similar problem.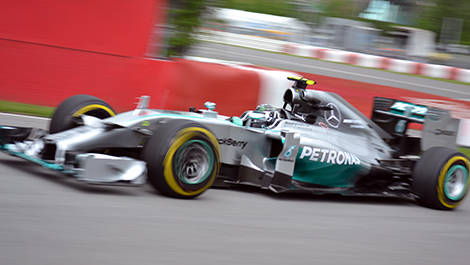 Nico Rosberg, Mercedes AMG (Photo: Rene Fagnan)
Lap 49, Massa pitted for new tires. Rosberg retook the lead ahead of Perez, Ricciardo and Vettel, just 2.8 seconds apart.
The top 8 cars were just 7.2 seconds apart!
With 10 laps to go, the flying Massa – running on newer tires – was catching up the four leaders at a great pace.
On lap 65, Ricciardo passed Perez and give a chase to the leading Rosberg.
At the end of lap 67, Ricciardo passed Rosberg for the lead!
One lap later, Massa tied to pass Perez on the start/finish straight but he hit the left rear wheel of the Sahara Force India. The two cars spun out of control and smashed hard against tire wall of the Senna corner. Massa's Williams came within inches from collecting Vettel's Red Bull.
Australian Daniel Ricciardo collected his first victory in F1. He finished first ahead of Nico Rosberg (Mercedes) and his Red Bull Racing's teammate, Sebastian Vettel.
Amazingly, Jenson Button (McLaren) recovered well and finished fourth in front of Nico Hulkenberg and Fernando Alonso.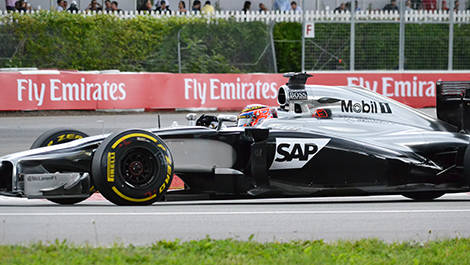 Jenson Button, McLaren (Photo: Rene Fagnan)
Race results*:
1. Daniel Ricciardo Red Bull-Renault 1h39m12.830
2. Nico Rosberg Mercedes +4.2s
3. Sebastian Vettel Red Bull-Renault +5.2s
4. Jenson Button McLaren-Mercedes +11.7s
5. Nico Hulkenberg Force India-Mercedes +12.8s
6. Fernando Alonso Ferrari +14.8s
7. Valtteri Bottas Williams-Mercedes +23.5s
8. Jean-Eric Vergne Toro Rosso-Renault +28.0s
9. Kevin Magnussen McLaren-Mercedes +29.2s
10. Kimi Raikkonen Ferrari +53.6s
11. Sergio Perez Force India-Mercedes -1 lap
12. Felipe Massa Williams-Mercedes -1 lap
13. Adrian Sutil Sauber-Ferrari -1 lap
14. Esteban Gutierrez Sauber-Ferrari -6 laps
Retirements
Romain Grosjean Lotus-Renault 58 laps
Daniil Kvyat Toro Rosso-Renault 47 laps
Lewis Hamilton Mercedes 45 laps
Kamui Kobayashi Caterham-Renault 22 laps
Pastor Maldonado Lotus-Renault 21 laps
Marcus Ericsson Caterham-Renault 6 laps
Max Chilton Marussia-Ferrari 0 laps
Jules Bianchi Marussia-Ferrari 0 laps
*Unofficial