Former race car driver and engine builder, Briton Brian Hart has sadly died at the age of 77.
Hart started in club meetings before moving up to Formula Junior, Formula 3 and Formula 2.
He founded Brian Hart Limited in 1969, and specialized in preparing Ford motors.
After supplying the engine of several championship winning F2 teams, Hart moved up to Formula 1 with the Toleman team in 1981 with a four cylinder, 1.5L turbo engine.
Hart turbo engines then powered the Toleman F1 car of rookie Ayrton Senna in 1984 who claimed a stunning second place on the streets of Monaco plus two other podium finishes.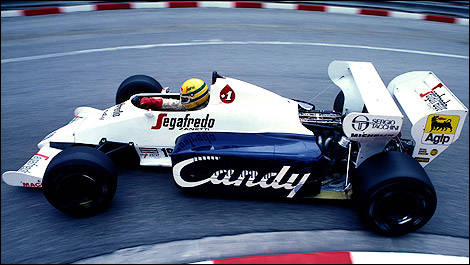 Ayrton Senna aboard the Toleman-Hart in Monaco, in 1984. (Photo: WRi2)
After the turbo era, Hart produced a normally aspirated 3.5L V10 engine for the Jordan team.
Hart engine also powered Footwork/Arrows machinery, as well as the Minardis.
Hart's new V10 design then became the Arrows unit used by Tom Walkinshaw's F1 team in '98 and '99. Walkinshaw acquired Brian Hart Ltd, which led to Brian Hart's departure from the sport.