Sauber F1 Team has more than 40 years of motorsport heritage, having contested its first Grand Prix back in 1993.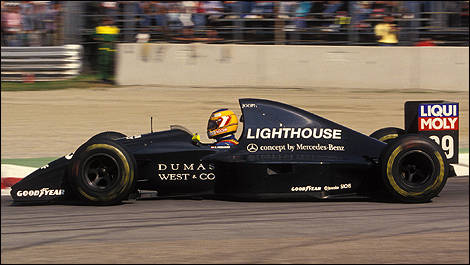 Karl Wendlinger, Sauber 1993 (Photo: WRI2)
Let's look at the evolution of the Sauber Formula 1 cars since that day.
The video shows the different cars, morphing one into the next, with side and top views. We can see the spectacular changes in technology introduced along the years.
Here is the complete list of Formula 1 models produced by Sauber:
1993: C12-Ilmor
1994: C13-Mercedes
1995: C14-Ford
1996: C15-Ford
1997: C16-Petronas (Ferrari)
1998: C17-Petronas (Ferrari)
1999: C18-Petronas (Ferrari)
2000: C19-Petronas (Ferrari)
2001: C20-Petronas (Ferrari)
2002: C21-Petronas (Ferrari)
2003: C22-Petronas (Ferrari)
2004: C23-Petronas (Ferrari)
2005: C24-Petronas (Ferrari)
2006: F1.06-BMW
2007: F1.07-BMW
2008: F1.08-BMW
2009: F1.09-BMW
2010: C29-Ferrari
2011: C30-Ferrari
2012: C31-Ferrari
2013: C32-Ferrari