Entering the summer break, Force India F1 team has scored one podium and lies fifth in the constructors' standings, and - until Hungary – has scored points in every single race.
Force India chief operating officer Otmar Szafnauer says it was impossible to predict how the new Mercedes-Benz V6 power unit would perform.
"Until the first race, we didn't know, for example, who would do the best job at developing the power unit. That said, we did have a choice and we went with Mercedes because we thought they would do the best job, even if we didn't know by how much. But we started development early, in May, so our expectation was that we would perform well - we just didn't know how well," said Szafnauer in an interview posted on
Formula1.com
.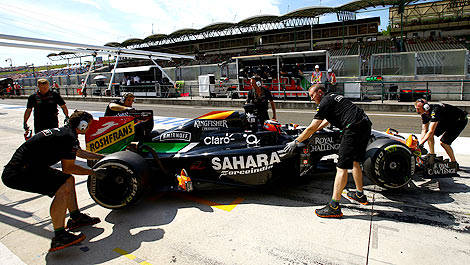 Sahara Force India, VJM07-Mercedes. (Photo: WRi2)
Technically, moving away from the reliable, normally aspirated V8 to the highly complicated V6 turbo hybrid was a huge challenge.
"The big thing was cooling the power train. There are a lot of trade-offs between cooling the power train; between gaining horsepower and losing aerodynamics," Szafnauer explained.
"You have to run those trade-offs in CFD [Computational Fluid Dynamics] and in the wind tunnel. If you over-cool you don't gain any more power, but you lose aerodynamic efficiency. If you go the other way, you're more efficient but you lose power. That is an iterative process: you learn it through a logical series of increments, not just up front.
"If you have a lot of resource, say 30 teraflops of CFD, 150 people in the tunnel and two tunnels at your disposal, you can do it quicker. But what you want to do is get it right, because if you get it wrong it has a big impact," he continued.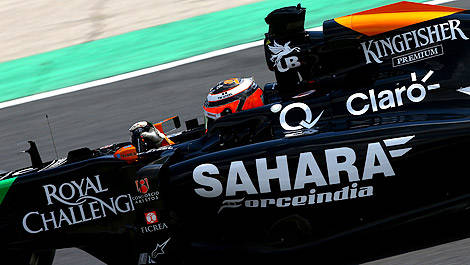 Sahara Force India, VJM07-Mercedes. (Photo: WRi2)
So is it all about the power unit this year?
"I don't think so. To win you have to get it all right. Look at Mercedes - I believe that their car would still be good enough to win even with Renault or Ferrari power. They have a good aero package, good mechanical package, they understand the tires, have good drivers and strategy - they're going to win. Remove the powertrain and stick another one in and they'll still be competitive.
"Is it more of an engine formula this year? Maybe a bit more than in the past when the engines were all frozen. But is it a complete engine formula? No way. We have the same engine as Mercedes, so do Williams and McLaren - and they're not winning," Szafnauer declared.