From GMM
Former team director Flavio Briatore would be a good addition as Formula 1 finds its direction for the future, says Fernando Alonso.
Recently, a man always closely aligned with the trajectory of Alonso's career - Briatore - was linked with a return to the sport as chairman of a new popularity working group.
It comes amid a period of introspection for F1 as it grapples with popularity at the crossover of the sport's old model with new, greener rules and the social media era.
Fernando Alonso said 2014 has been a "tough year" for him.
"First, because we (Ferrari) are not competitive," he told
Sky
, "and also because it is quite boring to drive the car. It is too slow and too heavy and we are not able to have the noise that we used to enjoy."
According to Italy's
Tuttosport
, Alonso thinks Briatore - a highly controversial figure within formula one - could help the sport at this time.
"Flavio has often had winning ideas; I think he is a brilliant person," said the Spaniard.
"He always has a very clear vision of how to solve problems. To me, he is someone who could help this sport a lot."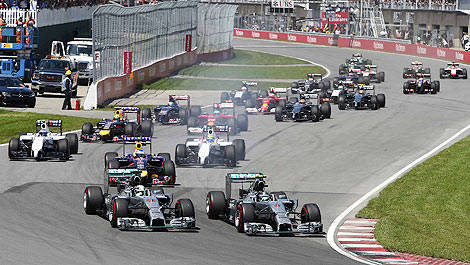 Start of the 2014 Canadian Grand Prix. (Photo: WRi2)
For others, F1 is something that is being left in its illustrious past. Jaime Alguersuari, dropped by Red Bull at a young age at the end of 2011, sees the future in the form of the new Formula E electric series.
"At the moment I don't consider formula one as a sport," he told the Spanish newspaper
Diario Sport
.
"It has lost everything because of the engines, the tires and the performance in general.
"Driving the cars was difficult - very difficult - but today a 16-year-old can get into cars that are five or six seconds slower than they were and be competitive.
"I find it disrespectful that someone like Carlos Sainz Jr., leading an international series like the world series that takes many years of training, is overlooked in what looks like a non-sporting decision.
"It seems that what is most important is the business and the money to be made.
"I've moved on," said Alguersuari, still just 24. "I just say, publicly and openly, that I do not want to know anything about Formula 1 because I think what is happening is ridiculous and shameful for me and many other drivers who are at the level to be there."