From GMM
Fernando Alonso and Ferrari are on the cusp of announcing the Spaniard's split, despite his contract for the 2015 and 2016 seasons.
The Spanish publication Cope said the parties have now agreed to terminate the deal, amid speculation of an enormous EUR 50 million per year standing offer from McLaren.
"At this moment, in Japan, Alonso is discussing his future at Ferrari," Luca di Montezemolo, still Ferrari's president until Sergio Marchionne takes over later this month, said at the Paris Motor Show.
"I am sure we will find the best solution for him and for Ferrari, whatever that may be," Montezemolo added.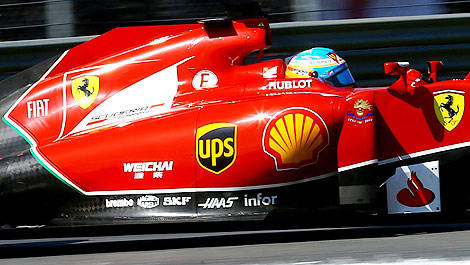 Fernando Alonso, Ferrari. (Photo: WRi2)
Authoritative media sources say the situation has progressed to the point that Alonso and his closest colleagues at the fabled Italian team are now beginning to say their goodbyes.
"I must thank Alonso," Luca di Montezemolo continued, "because whether he stays or doesn't stay, he has done a lot for Ferrari.
"We have a contract and in the next few days we are going to take a final decision with a lot of respect for one another.
"If he says he will stay, we will be happy. If we decide together to end our collaboration, it will be in the best manner possible," he added.
Also speaking in Paris, Sergio Marchionne also suggested that Ferrari's marriage to Alonso is nearing an end.
"Ferrari is more important than any partner," he said. "Our priorities are well defined: the company, the brand and above all the people."