From GMM
Bernie Ecclestone sees friend Flavio Briatore as the key to rescuing formula one's flagging 'show'.
That is the claim of publications including the Spanish sports daily AS, in the wake of a meeting of team bosses in the Hungaroring paddock on Saturday.
Afterwards, rumours began to emerge that flamboyant Italian Briatore, absent from F1 since his expulsion and ban following the 'crash-gate' scandal, is set to return to the sport in a new advisory role.
Perhaps alarmed by the surprisingly small crowd on F1's traditional German soil a week ago, a big agenda item on Saturday was the need to revitalise the sport's appeal.
The Austrian newspaper
Kleine Zeitung
reports that a further 30 per cent decline in ticket sales is being recorded this weekend in Hungary.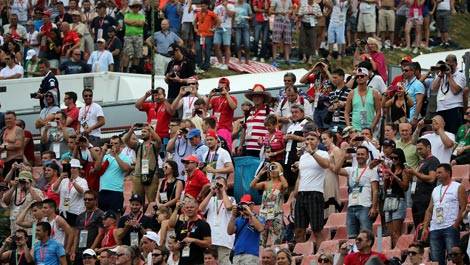 More and more fans are leaving F1 (Photo: WRi2)
Mercedes team chairman Niki Lauda is quoted as saying he thinks F1's issues are "homemade".
He said the sport is too "controlled" by complex and numerous regulations and penalties that prevent "proper racing".
Lauda thinks the current generation of drivers has been "disenfranchised" by the modern system, and are therefore lacking the "charisma" fans are looking for.
For Ecclestone, the solution could lie within a new popularity working group, chaired by the former Benetton and Renault chief Briatore and set to feature Ferrari, Red Bull, Mercedes and Force India.
Mercedes' Toto Wolff spoke with reporters after Saturday's meeting and was asked about the Briatore rumours.
"There are a couple of people we will sit with together," he said.
It is believed one of the ideas to spice up F1 is a 'success ballast' system, where drivers carry handicap weight according to their position in the championship.
If actually proposed, it will likely trigger controversy beyond even the scale of the much-derided 'double points', which is near-universally condemned for being too artificial.
"The teams get together, they talk about things," Red Bull's Christian Horner told
Sky
after Saturday's meeting.
"What we need is for the drivers to be the heroes. The cars should be secondary and to do that we need to give more access to the drivers. The fans have got to be able to engage with their heroes."