Former Renault F1 Team boss, Italian Flavio Briatore said in Monza that he was not interested in heading the new Formula 1 popularity working group.
In an interview with British magazine Autosport, the controversial former team principal said however he agrees to say that some aspects of the new F1 are 'completely mad'.
"It is the teams who need to sort out the problems [not me]," Briatore told
Autosport
.
"The bosses are big enough to resolve the problems - there is no need for anyone outside to suggest anything."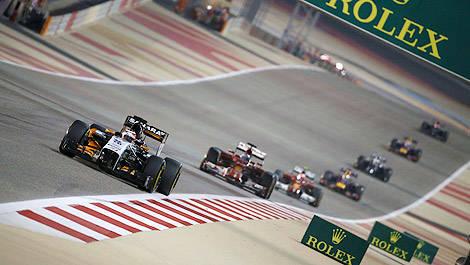 The 2014 Formula 1 at Bahrain. (Photo: WRi2)
The Italian mentioned that he thinks that today's F1 is all about technology, which is wrong.
"It is a new F1," he declared.
"Maybe it is better, but a lot of people don't understand. It is as simple as that. F1 is about the race, the event. What we are talking about? We are only talking about a piece of technology".
On a final note, Briatore said the costs of running a team are simply too high. That topic needs to be addressed.
"First the costs, it is completely mad. With the current costs, no private people can come to F1, it is impossible. We are talking about 250-300 million euros per season. It is completely mad. This is what you have. And after you spend 300 million euros - you get to Sunday and you have to save fuel, you have to save tires. Next they will want to save overalls..." Briatore explained.