From McLaren
In less than the time it takes to read this, Jenson Button's pit crew set a new world record for the fastest-ever pit stop in Formula 1 history: 2.31s during the German Grand Prix at Hockenheim.
The time – registered on lap 40 – underlines
the season-long efforts of the McLaren Mercedes pitcrew
to shave vital tenths from the critical pit stop procedure. The McLaren Mercedes has now set the fastest stationary pit stop time in Canada, Valencia, Silverstone and Hockenheim – the last four grands prix.
To cap it all, Button's speedy second stop was instrumental in getting him out on track ahead of rival Sebastian Vettel and it proved decisive in helping him battle for the lead.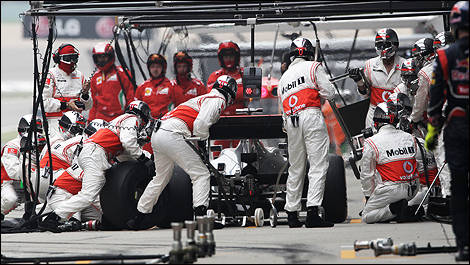 McLaren pit crew at work in Germany. (Photo: WRi2)
Full pitstop time breakdown:

Lewis Hamilton pit stop times
Stop 1 - 5.60 seconds
Stop 2 - 2.85 seconds
Stop 3 - 3.83 seconds
Jenson Button pit stop times
Stop1 - 3.26 seconds
Stop 2 - 2.31 seconds (world record)
"I think it's important to place some of the credit for Jenson's second place with our pitcrew: their second stop for Jenson was the fastest Formula 1 pitstop of all time, with a stationary time of just 2.31s," said team McLaren team principal Martin Whitmarsh in a press release.
"That's quite unbelievable and not only a testament to our belief in the processes and equipment we put in place to improve our performance, but also to the commitment and determination of the guys on the ground to improve and refine their technique. Well done to everyone for a quite phenomenal achievement!" Whitmarsh added.