British driver Jenson Button put the new McLaren MP4-29 on top of the charts at the end of Day 2 of the Formula 1 winter test session at Jerez, Spain.
Jenson Button, McLaren (Photo: WRI2)
Overnight rain, coupled with the decision to douse the track with sprinklers in order to enable Pirelli to evaluate its 2014-spec wet-weather rubber.
Despite the fact that it did not turn a wheel Tuesday, the McLaren emerged quickest today with a time of 1m24.165, some three seconds faster than Kimi Raikkonen in the Ferrari yesterday.
Raikkonen was second quickest today, 0.7 second slower than Button. Another Finn, Valtteri Bottas, was third in the Mercedes-powered Williams.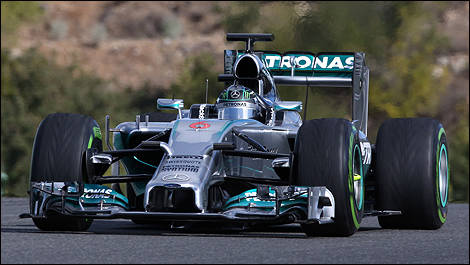 Nico Rosberg, Mercedes AMG (Photo: WRI2)
Nico Rosberg was fourth in the Mercedes AMG. Following Lewis Hamilton's crash yesterday, a new and revised front wing was delivered at the track this morning.
Sergio Perez, Sahara Force India (Photo: WRI2)
Mexican Sergio Perez was fifth in the Sahara Force India, beating his fellow countryman, Esteban Gutierrez in the Sauber, rookie Marcus Ericsson in the Caterham and Sebastian Vettel who managed to complete just 8 laps in the Red Bull before suffering a "Renault energy store problem".
The Toro Rosso was unable to do any running today, because of electrical problems that could not be repaired in time.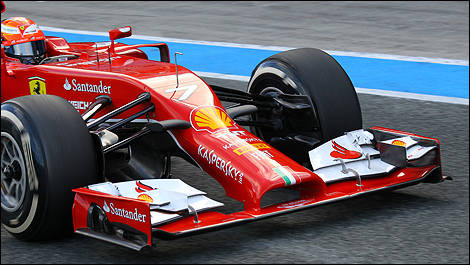 Kimi Raikkonen, Ferrari (Photo: WRI2)
The Mercedes powered cars (Mercedes AMG, Williams, McLaren and Sahara Force India) completed 212 laps today, compared to just 19 for the Renault teams (Red Bull, Toro Rosso and Caterham). Rosberg alone completed a stunning 97 laps!
As a reference, the best lap time set last year here at Jerez was a 1m17.879 set by Felipe Massa in the Ferrari.

Jerez winter test*, Day 2 :
Pos. Driver Car Time Laps
1 Jenson Button McLaren 1:24.165 43 laps
2 Kimi Räikkönen Ferrari 1:24.812 47
3 Valtteri Bottas Williams 1:25.344 35
4 Nico Rosberg Mercedes AMG 1:25.588 97
5 Sergio Perez Force India 1:28.376 37
6 Esteban Gutierrez Sauber 1:33.720 53
7 Marcus Ericsson Caterham 1:37.975 11
8 Sebastian Vettel Red Bull 1:38.320 8
*Unofficial timing